PowerHawks players visit local cancer center pediatric unit
December 12, 2017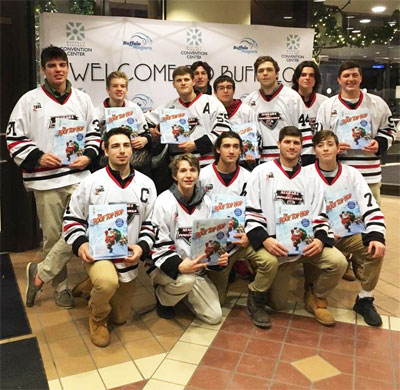 The NA3HL's Niagara Falls PowerHawks took time out of their busy hockey schedule during the evening of Monday, December 11th to visit the Roswell Park Cancer Institute Pediatric Unit in Buffalo, New York.
Several of the PowerHawks players were on hand and also joined some of the local Buffalo FBI personnel to visit some of the sick children that are staying at the institute. The players delivered and signed more than 600 donated books to the Pediatric Unit.
The team and players made the visit to cheer up kids during the holiday season.
"We are very proud of these boys and our program for spending last evening at Roswell Park Cancer Institute and handing out and signing over 600 books to children who are having a real tough time this holiday season. We wish each and every one of those children all the best in their battle that is tougher than any hockey opponent these young men will face," said PowerHawks General Manager Frank Vecchio. "Thank you to Mark Gates, Coach Jason Hill and the Buffalo Office of the FBI for putting this together. Great, great stuff!"