Friday Finals: Blanchard's big night keeps Brahmas rolling
October 26, 2019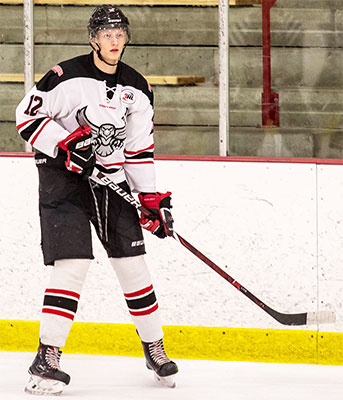 TX Brahmas 7 @ Mid Cities 4 - Tyler Blanchard netted a hat-trick, Bryce Runyan made 28 saves and the Brahmas breezed past the Jr. Stars 7-4 on Friday. Jack Cooper, Michael Thomas Jr., Benjamin Mondou and Andrue Trelstad rounded out the Brahmas' win, while Brandon Speights, Hunter Leonhard, RJ Muckensturm and Payton Carter provided the Mid Cities offense. Noah Kinsinger and Kenton Kim combined for 32 saves for the Stars.
Willmar 4 @ Alexandria 3 - Down by two late in the second, the Warhawks potted three unanswered goals to roar back and take a 4-3 win over the Blizzard on Friday. Angelo Perry, Ben Tarlton, Elbridge DeKraai and Blake Hansen fueled the comeback attack, outmatching Alexandria markers from Cole Jacobs and Shane Birkeland. Luke Weberg made 32 saves for the win, while Nathan Hadley stopped 27 for the Blizzard.
NE Stars 3 @ Northeast 8 - The Generals' hot start continued on Friday, as Carson Asper posted a hat-trick and Kolye Bankauskas put up 2g-3a--5pts to fuel an 8-3 win over the Knights. Drew Schemmel, Deacon More and Grigori Zemzer lit the lamp as well for Northeast, while Henry Beguelin, Brandon Melanson and Joe Gagnon provided the New England offense. Justin Simmons' 13 saves earned the win, while Casey Johnson made 17 stops in the loss.
Wausau 0 @ Coulee Region 4 - Michael Janke stood tall between the pipes with an 18-save shutout to backstop the Chill to a 4-0 win over Wausau at home. Jacob Best led the way with two goals on the night, with Flavien Fondadouze and Gadel Khismatullin joining him on the scoresheet. Tyler Klatt made 34 saves in the loss.
St. Louis 1 @ Granite City 3 - Nikolai Rajala's goal late in the first period and Nate Johnston's 27 saves pushed the Lumberjacks to a 3-1 win over the Jr. Blues in a heavyweight battle in Sauk Rapids. Blake Spetz and Carson Simon also lit the lamp for Granite City, eclipsing Sean Hofstetter's lone goal for St. Louis. Brett Tome turned aside 27 pucks in the loss.
Sheridan 10 @ Gillette 2 - Steven Delikat and Stepan Ruta netted twice apiece and James Downie stopped 26 pucks to help the Hawks take a huge 10-2 win over the Wild on the road. Goals from Trevor Timm, Logan Syrup, Justin Schwartzmiller, Alex Kesler, McCaffrey Billings and Jack Royer helped Sheridan cruise to victory, as Declan Young potted both Gillette goals. Shane Phillips and Brad Muzarelli put up a shared 53 saves in the Wild net.
Helena 3 @ Missoula 4 - Trevor Prince led a furious Missoula comeback with two goals on the night, as the Bruins roared back from a 3-1 deficit in the first period to steal a 4-3 win over the Bighorns at home. Billy Lucas and Cayce Balk also found twine for Missoula, while Ty Niskanen, Nicholas Cenis and Abraham Laggis put up the Helena goals. Dylan Swanson backstopped the win with 27 saves, while Rylan Labrie stopped 17 in the loss.
Bozeman 10 @ Yellowstone 2 - The Icedogs' perfect start carried on with another massive win on Friday, riding a Hazen McKay hat-trick and two goals from Luke Hartge to a 10-2 victory over the Quake. Domagoj Troha made 34 saves for the win, as Andrew Bertolini, Christian Veneruzzo, Sam Bourdon, Duncan McGarrah and Luke McKay fleshed out the Icedogs' offense. For Yellowstone, Michael Allman withstood a barrage in net, making a whopping 57 saves, with Spencer Platt and Cade Rosansky finding twine in the loss.
North Iowa 2 @ New Ulm 3 (OT) - Teddy Lillico picked a perfect time for his first goal of the year, just 26 seconds into overtime, as the Steel edged the Bulls 3-2 for a statement win out west. Corey Stormer and Keegan Bauman also found twine for New Ulm, while Lucas Wahlin and Jordan Roo helped North Iowa force extra time. AJ Cohen stopped 31 pucks for New Ulm's win, while Dysen Skinner turned aside 28 in the Bulls' crease.
Danbury 1 @ NE Knights 4 - Nate Mastrony's late Danbury strike busted Zach Roncarati's shutout bid in the Knights' net, but his 32 saves and New England's four earlier goals saw them take the win over the Colonials. Martin Dlugolinsky, Mitchell Shulman, Jake Willis and Jake Murphy of New England hit the back of the net behind Danbury's Alex Fernandes, who made 20 saves.
Milwaukee 3 @ Breezy Point 2 - Wesley Knutson scored twice and Alex Goder added another to help Milwaukee build up a three-goal lead, and the Power managed to hold off a late Breezy Point comeback bid to take a 3-2 road win. Jordan Linder and Braeden Zaste netted for the North Stars in front of 37 saves from Griffin Foster. Zach Piehl took the win with 41 saves for the Power.