Brahmas close in on playoff spot with win on Monday
January 14, 2020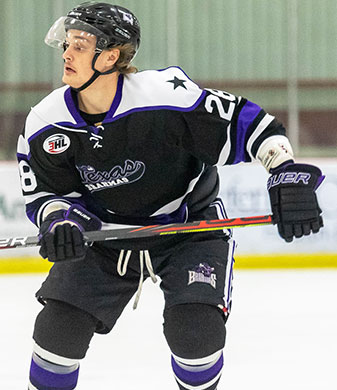 TX Brahmas 4 @ Louisiana 3 – The Texas Brahmas took the rubber match of their three-game road series in Louisiana thanks to a 4-3 win on Monday night. Tyler Blanchard scored twice and Leevi Selanne had a goal and two assists in the win.
The Brahmas opened up a 2-0 lead with 1st period goals from Selanne and Gabe Potyk. The Drillers drew within a goal later in the period thanks to the 9th goal of the season from Shamil Khadizhalov.
In the 2nd period, the Brahmas increased their lead to 3-1 with a late goal from Blanchard, which was his 10th of the season.
In the 3rd period, the Drillers again cut the lead down to a goal thanks to a strike from Hayden Watzka, but the Brahmas again had an answer thanks to Blanchard's second of the game. Ben Cope scored late in the game for the Drillers, but it would not be enough.
Brahmas goalie Kayden Hargraves made 18 saves in the win, while Aaron Dickstein made 54 saves in the loss.