Sunday Wrap-up: Caps, Nordiques, and Jr. Blues all sweep
September 17, 2018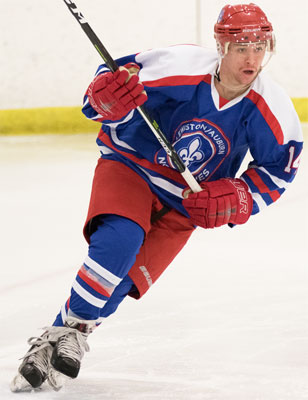 Atlanta 9 @ College Station 3 - The Atlanta Capitals once again dominated the College Station Spirit, this time taking the victory by a 9-3 margin as the teams get to know one another quite well, having opened the season with three consecutive matchups. Jason Ladzinski (2), Brett Dougherty, Brody Nielsen, Andrei Rusakov, Christopher Walker, William MacDonald, C.T. Johnson and Nicholas Sleeper netted for the Capitals -- of those scorers, five boast goals in each leg of this weekend's back-to-back with the Spirit. Brenden Fehlig notched two tallies and Jared Slay struck once to help College Station get on the board, but even Alan Brouillette's 36 saves were not enough to stop the onslaught. Atlanta's Leo LePata finished with 19 saves to remain perfect on the season.
L/A 6 @ Cape Cod 0 - The L/A Nordiques blasted the Cape Cod Islanders out of the water behind a five-goal second period explosion, winning by a 6-0 final margin on Sunday. Kyle Secor's two goals paced the attack, while Zack Mullen, Dominic Tehan, Joshua Sanchez and Connor Kennedy chipped in a goal apiece. Jason St. Pierre earned the shutout with 20 saves in the L/A cage, while Parker Orchard took the loss for Cape Cod despite a busy night with 46 saves.
St. Louis 11 @ Evansville 0 - Another day, another big win for St. Louis as they netted 11 times in their second contest of the weekend against Evansville following last night's 6-0 win. Mason Kruger (3), Matthew Monreal (2), Will Baginski (2), Dante Jones, Jake Faulkner, Joey Boccardi, and Colton Markiewicz scored for the Jr. Blues, and Ty Barnhill held strong between the pipes to post a 14-save shutout. Despite the loss, Evansville's Noah Brandau put forth a strong showing in the opposite crease with 57 saves.
Oswego 2 @ Maine 3 - After falling on Saturday 4-0 to the Oswego Stampede, the Maine Wild got their revenge with a 3-2 victory on Sunday. Chandler Bilodeau starred for Maine with two goals -- including the game-winner -- while Regan Wintle added another tally and goaltender Ben Feldman came up with 28 saves. Rich Hart and Mark Mannarn lit the lamp for the stampede, and Colin Burgess stopped 35 pucks in the loss.
North Iowa 6 @ Peoria 1 - Like Maine, North Iowa also managed to turn the tables in the latter half of a back-to-back series, dropping the Peoria Mustangs 6-1 after falling 6-0 Saturday night. Peter Verstegen (2), Matt Dahlseide, Cam Fagerlee, Jack Giddings and Jimmy McDermott netted for the winners, and Connor Poczos recorded his first win of the year with a 22-save effort. Jared Wisely was the lone lamplighter for Peoria, and Trevor Smith turned aside 29 shots.
Mid Cities 2 @ Louisiana 6 - Louisiana tallied five unanswered goals after falling behind 2-1 in the second period to run out as 6-2 winners at the final buzzer on Sunday. Tucker Alspaugh stole the show with two goals and two assists. Mitch Dolese, Zach Smith, Grant Griffin and Blake Siewertsen also bagged goals for the Drillers. Griffin Varricchio stopped 28 pucks in a bounce-back effort after coughing up five goals in his last start. Blake Wood and Brandon Speights lit the lamp for the Jr. Stars, and Noah Kinsinger finished the game with 21 saves on 27 shots.