Saturday Scores: Frontier picture clarifies with Jr. Bruins sweep
February 10, 2019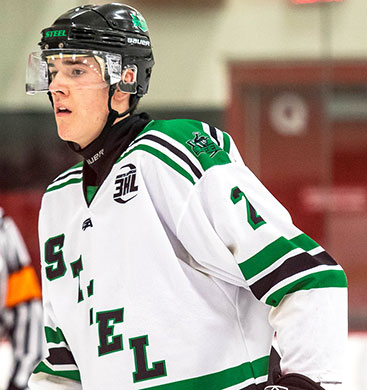 Missoula 5 @ Gillette 2 - Misha Akatnov potted his 11th hat-trick this season on Saturday to lead the Bruins to a key 5-2 win over the Wild on the road. Evan Williams posted a strong 36 saves for Missoula as Ty Dittman and Bill Lucas found twine as well. For Gillette, Gage Thompson and Danny Ramos scored in front of Shane Phillips' impressive 40 saves between the pipes.
Alexandria 3 @ New Ulm 4 - Down 3-2 early in the third period, Brian Oara and Jacob Halvorson willed the Steel to victory with late goals to help their side top the Blizzard 4-3 at home. Hunter Johnson and Jarrett Cammarata also posted goals for the Steel, who received another strong showing from Henry Baribeau with 26 saves. Brett Meister stood out for Alexandria with two goals, as Zach Curry scored as well and Ville Hyttinen finished with 23 stops for the Blizzard.
St. Louis 4 @ Coulee Region 3 - Nathan Sargent tallied the game-winning goal early in the third period to help the Blues down the Chill 4-3 on the road on Saturday. Matthew Monreal starred for St. Louis with two goals on the night alongside another goal by Zach Wilson. Flavien Fondadouze, Toon De Schepper and Donny Schultz scored for Coulee Region as their nine-game winning streak was snapped with the loss. Jack Regan took a 31-save win for the Blues, while Devin Naidow turned aside 18 shots in the Chill loss.
L/A 5 @ New England 1 - Valeri Rykov and Joshua Sanchez each netted twice to push the Nordiques to a 5-1 win over the Stars. Cole Ouellette also found twine in L/A's win, as Andrew Ghimpeteanu turned aside 31 of 32 shots between the pipes, conceding only to New England's Zachary Cormier. Stars netminder Matthew Marini stopped 33 pucks in the loss.
Louisiana 6 @ Mid Cities 2 - Five unanswered goals in the final 40 gave the Drillers a 6-2 comeback victory over the Stars in Texas on Saturday. Two-goal efforts by Benjamin Cope and Blake Siewertsen led the way, as Grant Griffin and Mitch Dolese struck for a goal apiece as well. For Mid Cities, Hunter Leonhard and Connor Simpson found twine. Kevin Lake took the win with 27 saves in the Louisiana cage, outmatching a 35-save showing by Francisco Clark-Silva.
Long Beach 3 @ Northeast 4 - The Sharks erased a 3-0 deficit with three straight goals in a 20-minute span, but Kolye Bankauskas lit the lamp with four minutes to play to seal a tense 4-3 victory for the Generals. Deacon More, Marc Faia and Cole Therrion put Northeast ahead early, before two Cade Lambdin tallies and another by Dino Mukovoz leveled the affair, setting up the late strike by Bankauskas. Jeb Barrett's 14 saves earned the win, while Darren Nathan suffered the loss despite an outstanding 61 saves for Long Beach.
College Station 2 @ Atlanta 3 (OT) - Cole Thomas Johnson netted twice -- including the game-winning goal in overtime -- to help the Capitals narrowly avoid an upset and win 3-2 over the Spirit after 61 minutes. Ayrton Cornic also scored for Atlanta with 45 seconds left in the game to force the extra period after Trevor Borlace posted both Spirit strikes. Blake Forystek stood tall with 39 saves for College Station, but fell short as Patrick Egdorf took the 15-save victory in the Caps' cage.
Cape Cod 2 @ Maine 6 - Six different skaters scored for Maine as the Wild toppled Cape Cod 6-2 at home on Saturday. Chandler Bilodeau, Regan Wintle, Mitchell Bliss, Mathieu Nadeau, Kyle Weeks and Kadin Mason provided the Wild offense while JImmy Dravage and Leevi Kervinen scored for Cape Cod, who received 29 saves from Maxim Clouser. Ben Feldman snagged the win between the Wild pipes with 26 stops of his own.
Niagara Falls 0 @ Oswego 7 - Elijah Morris, Wade Moak and Rich Hart each scored twice, Manny Legace turned aside all 27 shots against and the Stampede coasted past the Powerhawks 7-0. Ryan Gunther added another marker for Oswego as Niagara Falls' Jonathan Sebastiano finished with 40 saves on the night.
Evansville 3 @ Wisconsin 12 - It was a banner night for Wisconsin's Steven Delikat, who posted his first hat-trick of the season in just the second game that he has scored in en route to a five-point night -- one of three Whalers to hit that mark in the contest -- in Wisconsin's 12-3 rout of the Thunderbolts. Joining Delikat with a quintet on the scoresheet were Tanner Mros (2g, 3a) and Trevor Timm (5a). Adam Varga and Kolton Wright also starred with two goals apiece, while Justin Schwartzmiller, Jeff Bishop and Alex Kesler netted individual tallies. Meanwhile, Matthew Jordan, Anthony Caserta and Sam Matus bagged goals for Evansville, who featured a stout 64 saves from Noah Brandau and Jack Cooper. Ryan Hooks and Caleb Harris combined for 20 stops in the Wisconsin net.
Skylands 2 @ Binghamton 5 - Thomas Sullivan stonewalled 25 shots and Thomas Liebold potted a pair of goals to guide the Senators to a 5-2 win over the Kings on Saturday. Mike Padgeon, Greg Simmons and Dinmukhamed Dzhangarashev also lit the lamp for the hosts, while Jake Lissy and Dylan Dinzik netted for Skylands. Kavan Johnson played well in the Kings' crease, turning aside 43 shots in the contest.
Breezy Point 1 @ Granite City 5 - Hunter Schwehr and Tom Nagle recorded two goals apiece as the Lumberjacks responded to an early Breezy Point goal to take a 5-1 win over the North Stars on Saturday. Dustin Sadler pushed Breezy Point ahead on an early power play, before Schwehr and Nagle did their damage alongside an individual goal by Blake Spetz to seal the win. Matt Fitzgerald's 21 saves earned the win, while Jacob MacLennan faced down 26 pucks in the Breezy Point net.
North Iowa 7 @ Willmar 0 - Dysen Skinner logged his second shutout of the season with 27 saves as Jimmy McDermott notched a hat-trick to help the Bulls down the Warhawks 7-0 on Saturday. Jack Giddings' two tally tilt also shone on the night as Matt Dahlseide and Brendan Studioso bagged goals of their own. Nelson Schiiler faced all he could handle in the Willmar net, stopping 42 of 49 in the loss.
Helena 8 @ Yellowstone 1 - Ian Zaleski, Hayden Seitz and Elliot Plourde each logged two goals for the Bighorns as they took down the Quake 8-1 to keep pace with Great Falls atop the Frontier division. Luc Cross and Mikhail Gavrilenko also lit the lamp for Helena, while Jack Harris nabbed Yellowstone's lone marker. Alexander Rogers finished with 16 saves in the win, while Logan Cooksy's busy night ended with a 62-stop showing for the Quake goalie.
Bozeman 7 @ Butte 2 - After giving up the game's opening goal, the Icedogs rode a Hazen McKay hat-trick to a 7-2 victory over the Cobras on Saturday. Connor Fuchs, Luke McKay, Dominic Canic and Jacob May also scored for Bozeman, eclipsing Butte goals by Tyson Stovin and Robin Bagley. AJ Ruskowski saved 28 shots for the win, but undoubtedly the most impressive performance of the night came from Butte goaltender Karl Zodda, who stopped an unfathomable 94 of 101 shots in the contest despite the tough luck loss.