Sunday Wrap-Up: Chill close gap in Central
February 11, 2019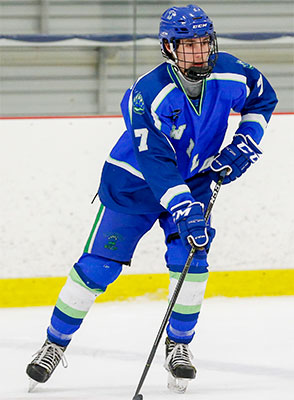 St. Louis 2 @ Coulee Region 4 - The Chill got their game back on track with a key 4-2 win over the Blues on Sunday. Flavien Fondadouze notched a pair of goals to make it now three in his last two outings, as Brady Lindauer and Marco Escobar also lit the lamp for Coulee Region. Meanwhile, Will Baginksi and Jacob Wiethaupt put up goals for St. Louis, who received 26 saves from Mikael Foucher. Michael Janke notched the win for Coulee Region with 31 saves.
Cape Cod 4 @ Maine 5 - Chandler Bilodeau posted his second two-goal effort in the last three games to guide the Wild to a 5-4 comeback win over the Islanders on Sunday. Cody Woodward, Jeff Murphy and Kadin Mason also provided offense for Maine, while Tanner Little, Mike Goroshko, Leevi Kervinen and Nevin Daviault put Cape Cod on the board. Daniel Sprague earned the win with 30 stops, while Maxim Clouser turned aside 34 in the Islanders' loss.
College Station 1 @ Atlanta 5 - Trevor Borlace of College Station and Cole Thomas Johnson of Atlanta each scored at least once to continue their strong individual play as of late, but Johnson and the Capitals came out on top in a 5-4 affair in Georgia. Johnson posted two goals on the day alongside markers by Andrei Rusakov, Nicholas Sleeper and Jesse Keicher. CJ Boothe stopped 60 pucks for the Spirit, but Leo LaPata took the win with 27 saves of his own.
Niagara Falls 1 @ Oswego 8 - Wade Moak and Rich Hart set the pace with two goals apiece as the Stampede tore through the Powerhawks 8-1 to close out their weekend set. Also scoring for Oswego were Elijah Morris, Tommy Kilway, Danny Mikol and Joey Gallo as Ben White earned the 32-save win between the pipes. Matthew Schemelia potted the lone 'Hawks goal as Noah Spiesz stopped 41 pucks in the Niagara Falls crease.
Evansville 1 @ Wisconsin 5 - Five different Whalers found twine as their team toppled the Thunderbolts 5-1 in Sunday's action. Justin Schwartzmiller, Sam Hanson, Jeff Bishop, Koltan Wright and Jack Royer fueled a potent Wisconsin attack. Ryan Hooks stopped 11 of 12 shots for the win, seeing his shutout bid snapped by a late Anthony Caserta tally for Evansville, who received 59 solid saves from Stephen Friedland.
Louisiana 7 @ Mid Cities 2 - Grady Reis stopped 21 of 23 to record his seventh win in nine starts in a Louisiana sweater this season, backstopping the Drillers to a 7-2 win over the Stars on Sunday. Blake Siewertsen, Viacheslav Nilov, Grant Griffin, Matthew Butler, Zach Smith, Mitch Dolese and Jonathan Broadribb each got in on the Louisiana goal-scoring action, while Jonah Carlson and Remy Kesling did the same for Mid Cities. Kenton Kim finished with 37 saves in the Stars' cage on the day.
North Iowa 5 @ New Ulm 4 (SO) - Carter Wagner and Brendan Studioso each lit the lamp in the shootout to help the Bulls hold off the Steel 5-4 on Sunday. Dysen Skinner starred in the Bulls' net, stopping 28 pucks and two of three New Ulm skaters in the breakaway contest to seal North Iowa's win. Studioso and Wagner each also scored in regulation, joining Jordan Roo and Hank Nagel with North Iowa goals on the day. Jordan Cooper led New Ulm with two tallies, while Jake Ford and Brian Oare chipped in one apiece in front of a remarkable 42 saves by Henry Baribeau between the pipes.
Long Beach 3 @ Northeast 10 - Cade Lambdin potted a hat-trick for the Sharks, but the Generals' attack proved too strong as they skated to a 10-3 win over Long Beach on Sunday. Thad Marcola and Carson Asper posted two goals apiece to lead Northeast, while Deacon More, Tami Merilainen, Cole Therrion, Josh Petrucci, Kolye Bankauskas and Marc Faia added goals of their own. John Driscoll sealed the win with 18 saves, while Tim Brillaud and Darren Nathan combined for 39 stops in the Sharks' cage.
Butte 2 @ Great Falls 5 - Karl Zodda once again put forth a superhuman showing in the Butte goal with an astounding 96 saves, but his team's efforts fell just short as the Americans topped the Cobras 5-2 to round out the week's action. George Nuutinen scored twice for Great Falls, leading Dylan Olson, Garrett Peters and Justin Ohnstad to score as well. Robin Bagley netted both Butte markers as the Cobras' attack forced Viktor Wennberg into 11 saves on 13 shots in the Americans' net.