Saturday Scores: Bighorns in control in Frontier
March 3, 2019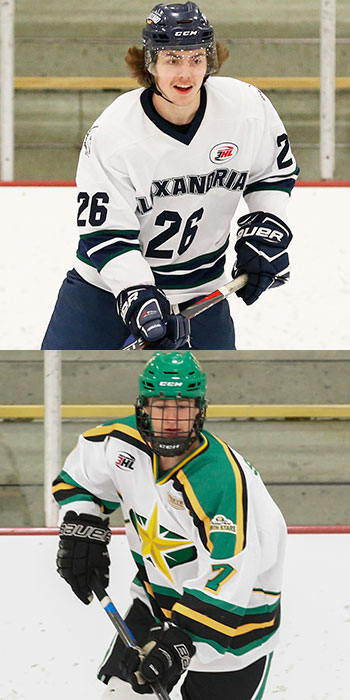 Missoula 1 @ Helena 4 - The Bighorns struck for four goals in the opening 40 minutes to decide the game early as they skated to a 4-1 win over the visiting Bruins. Darren Donovan, Hayden Seitz, Elliot Plourde and Mikhail Gavrilenko provided the offense for Helena, outpacing Christian Ward's lone third-period goal for Missoula. Carver Thompson stopped 28 pucks in the Helena net, while Evan Williams turned aside 38 of 42 for Missoula.
Wisconsin 2 @ St. Louis 5 - Dante Jones' third hat-trick of the season paced a strong team effort for St. Louis that saw them top the Whalers 5-2 on Saturday. Mikael Foucher denied 30 of 32 shots between the pipes as Sean Hofstetter and Matthew Monreal rounded out the offensive efforts, while Justin Schwartzmiller and James Lowry tallied for Wisconsin. Kai Tomita finished with 37 saves in the Whalers' net.
Long Beach 8 @ Cape Cod 3 - A stunning six-goal effort from Cade Lambdin and 20 saves from Darren Nathan proved to be more than enough for Long Beach to take down the Islanders 3-0 on the road. Dino Mukovoz and Ryan Gridley were the other two Sharks' scorers, as Daniel Bazarin, Joshua Dolessio and Derek D'Arcy grabbed goals for Cape Cod. Maxim Clouser stopped 25 pucks in the loss.
Louisiana 2 @ Texas 9 - The South's top team flexed its muscle on Saturday, jumping out to a 7-0 lead en route to a 9-2 win over the Drillers on home ice. Stuart Pearson scored twice for the Brahmas, with Seth Cushing, Cory Scull, Jacob Kalandyk, Jack Cooper, Findlay Wood, Ian Erdman and Cal Couell joining him on the scoresheet. Thomas Held saved 18 of 20 for Texas, allowing goals to Blake Siewertsen and Viacheslav Nilov of Louisiana, who received a shared 33 stops from Samuli Aarinen and Grady Reis.
Maine 1 @ New England 3 - The Stars rattled off three straight strikes in the first 40 minutes and held off a late Maine comeback attempt to take a 3-1 win over the Wild. Corey Tumenas, Eric Glover and Connor Barter provided the Stars' offense as Timothy Pesek shut the door on 26 of 27 shots, conceding only to Cody Woodward of Maine in the final frame. Tom Spero stopped 41 of 44 for the Wild in the loss.
Binghamton 6 @ Skylands 1 - Six different skaters fueled a stout offensive showing for Binghamton as the Senators toppled the Kings 6-1 on the road. Kieran Horton, Seth McArdle, Mike Padgeon, Markus Cook, Greg Simmons and Rory Gresham each lit the lamp in front of an impressive 43 saves by Jeff Zero. For Skylands, Jake Cicalese tallied the only goal as Kavan Johnson faced a busy night in goal with 57 saves of his own.
Atlanta 7 @ College Station 0 - Joey Lajcaj scored twice, Leo LaPata posted a 28-save shutout and the Capitals cruised past the Spirit 7-0 on Saturday. Brett Dougherty, Gunner Moore, Christopher Walker, Keith Gustin and Cole Thomas Johnson each found twine as well, as Atlanta forced CJ Boothe and Blake Forystek into a combined 61 saves in the Spirit net.
Milwaukee 1 @ Coulee Region 8 - Two goals apiece from Connor Losen and Matt Janke and 26 saves by Devin Naidow fueled the Chill's 8-1 win over the Power on Saturday. Thomas Magnavite, Brady Lindauer, Toon De Schepper and Brandon Ratzloff also lit the lamp for Coulee Region, as Chuck Bay tallied the lone Milwaukee marker. Aaron Dickstein put up 43 saves in the loss.
Oswego 4 @ Niagara Falls 1 - Rich Hart and Joey Gallo each struck twice for the Stampede as they took down the Powerhawks 4-1. Ben White made 33 saves for Oswego, while Noah Spiesz faced 57 shots in the Niagara Falls net, stopping 54 in the loss. Jacob Robertson bagged the lone 'Hawks goal.
Wausau 1 @ Alexandria 4 - Tied at one midway through the third period, Dylan Mattson and Sam Prisbe tallied a goal apiece in a 12-second span to jump start the Blizzard offense en route to a 4-1 win over the RiverWolves at home. Ike Taraszewski and Jack Powell also scored for Alexandria, as Sean Johnston nabbed the lone Wausau goal. Ville Hyttinen stopped 12 shots for the win, outmatching Alexandr Gilev's 43 saves for Wausau.
Rochester 12 @ Evansville 0 - Joey Fodstad tallied a hat-trick, Matthew DeRosa scored twice and Liam Kelly posted an eight-save shutout as the Grizzlies breezed by the Thunderbolts 12-0. Oskar Stahl, Peyton Hart, Hunter Hall, Josh Hoffman, Porter Haney, Seth Bacon and Kory Potach rounded out the attack. Stephen Friedland and Noah Brandau posted a total of 66 saves in the Evansville net.
New Ulm 3 @ North Iowa 7 - Cam Fagerlee's four goals paced a potent Bulls attack as they knocked off the Steel 7-3. Also scoring for North Iowa were Carter Wagner, Jordan Roo and Jimmy McDermott, while Michael Savelkoul, Jacob Halvorson and Carson Sandwick netted for New Ulm. Dysen Skinner posted 22 saves for the win, while Henry Baribeau stopped 34 for the Steel.
Granite City 1 @ Breezy Point 3 - Carson Simon put the team on his back as he tallied a hat-trick in the North Stars' 3-1 upset win over the Lumberjacks. Jacob MacLennan also starred for Breezy Point with 40 saves on 41 shots in goal. Zack DeBoom nabbed Granite City's goal in front of a 16-save effort from Matt Fitzgerald.
Butte 4 @ Yellowstone 6 - Dylan Rumpke starred with two goals as the Quake prevailed 6-4 over the Cobras in a thrilling 10-goal affair. Tyler Cramer, Jack Harris, Evan Snyder and Ryan Lovelace fueled the rest of Yellowstone's scoring, while Butte received two goals each from Philip Winter and Alec Sorby. Michael Allman turned in 30 saves in the Quake cage, while Karl Zodda stopped 34 for Butte.
Gillette 1 @ Bozeman 3 - It was a goaltending duel in Bozeman on Saturday, with both netminders posting 45+ saves as the Icedogs prevailed 3-1 over the Wild. AJ Ruskowski stonewalled 48 of 49 between the Bozeman pipes as Dominic Canic, Jacob May and Hazen McKay provided the offense. Cody Grogan stopped 47 of 50 for Gillette, as Zach VanCompernolle tallied the lone Wild goal.