NA3HL announces results of 2019 Draft
April 19, 2019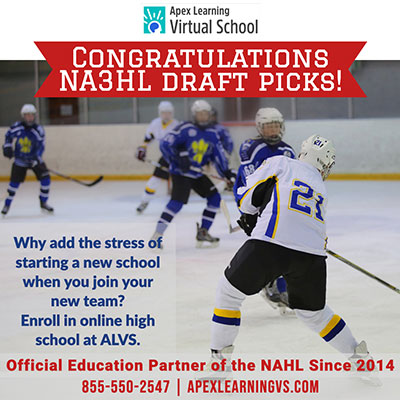 The annual North American 3 Hockey League (NA3HL) Draft took place on Thursday, April 18th as the 36 teams made their selections to try and fill their rosters for the 2019-20 season. The league as has announced the results of the 2019 NA3HL Draft.
In total, 287 players were selected in the draft, which took just over two and a half hours to complete.
"The NA3HL Draft was a great day for almost 300 junior hockey prospects who were selected. I think our teams deserve a lot of credit for working tirelessly to scout these players and do their research in preparation for the Draft. The NA3HL Draft is an important next step in a player's development," said NAHL Commissioner and President Mark Frankenfeld. "Our NA3HL teams are seeing the direct benefit of attending the NAHL Combines in addition to the season-long events the NAPHL has to offer."
The NAPHL had a big presence at the NA3HL Draft as 39 NAPHL players were selected, which is up from 32 NAPHL players a year ago.
In total, 71 players that participated in the 2019 NAHL Combines for junior-aged players both last weekend in Michigan and the week prior in Massachusetts, heard their names called in the NA3HL Draft. In addition, 72 more players who played in the two Combines were tendered by NA3HL teams prior to the draft. Overall, 143 players who were at the Combines, now are protected by NA3HL teams for the 2019-20 season.
The first player taken in the draft was defenseman Trevor Scherer, who was selected by the Wilkes-Barre/Scranton Knights. The 18-year-old from Ohio recorded seven points in 36 games played for the Ohio Blue Jackets U18 team this past season.
The next player selected was also the first forward and NAPHL player taken as Madison Capitols U18 forward Jacob Cummings was taken by the College Station Spirit.
The first goalie selected was with the 12th overall pick as the Skylands Kings selected Kenny Vought from the Skipjacks HC U18 team.
Breakdown of positions drafted:
Forwards: 190 (66%)
Defense: 80 (28%)
Goalies: 17 (6%)
Players not drafted or tendered by NA3HL teams are still able to participate in each team's respective open tryout camps. Remaining tryout camps are listed
here
.