3View: Alexandria Blizzard
August 19, 2019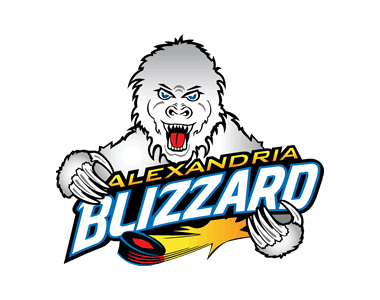 The 3View series will feature an in-depth look into all NA3HL teams in preparation for the 2019-20 season, with two teams being highlighted daily, leading all the way up until the start of the regular season. 3View goes in-depth into each NA3HL team and will include interviews with all the head coaches in the NA3HL, as they provide fans with their expectations and outlook for the 2019-20 season, including taking a look at their potential roster and their strengths as a team for the upcoming season. It will also take a look back on the 2018-19 season and how each team fared and what they accomplished. Best of all, 3View will provide the fans of the NA3HL with an inside look at their favorite team and what to expect.
Alexandria Blizzard
2018-19 Record: 29-17-1, 59 pts. (4th in the West Division)
2019 Playoffs: Lost in Division Finals
Head Coach: Jeff Crouse
2019-20 Division: West
After seeing four consecutive seasons end in division semi-final losses, the Blizzard finally broke through to the division finals with a series upset of the top-seeded Granite City Lumberjacks in 2019. And despite falling to the North Iowa Bulls in that finals series, Head Coach Jeff Crouse is looking forward to riding last season's momentum to even more success in 2019-20.
"Our expectations are going to be set pretty high with how we concluded last season. With the 2nd half of the season that we put together and knocking off the #1 seed, having a shot at the Fraser cup finals, our expectations are obviously to pick up right where we left off last season," he said.
Part of capturing that momentum means ensuring it doesn't depart with players advancing to college. Crouse and his staff have been hard at work searching for the right new pieces to build a championship contender.
With 2018-19 standouts like Kyle Hayden, Brett Meister and Dylan Giorgio plying their trade in the university ranks this season, Crouse says it's important to have veteran players step into starring roles as young players learn the ins and outs of the NA3HL.
"Our main focus this year for recruiting was to keep finding quality kids on and off the ice. To make sure that the players we added would gel with the solid returning core we have," said Crouse.
"I will definitely be leaning on all of our veterans like I do every year. I have a great group returning and with their leadership and work ethic, I think they will do a great job helping the younger guys understand what we have to do as a team to reach our goal."
Besides looking to make the jump to the Fraser Cup Finals in 2020, the Blizzard will also aim to surpass last year's count of six collegiate commitments heading into the new slate of games. And according to Crouse, past successes may play into future achievement in that regard.
"We want to make sure we are developing these young men on and off the ice. If we continue to have success on the ice, make sure we are doing the right things off the ice, there is no doubt that we will continue to put quality players into the College level. Our current players at the college level have had great success, which in return helps the current players we have get more looks and opportunities at the next level," he said.
Regardless of how the 2019-20 campaign ends on the ice, the Blizzard can take pride in their extensive work around the local area.
"Our team is very active off the ice in the Alexandria community," said Crouse, "We work with Special Olympics, The youth hockey program, the school district. We do multiple community events such as parades, senior citizen meals, Thanksgiving meals, shoveling fire hydrants and all sorts of cool things throughout the Alexandria and surrounding areas. We want to make sure our players are giving back to the community and helping out anyway we can!
With some stout returners and an infusion of young talent, the Blizzard will certainly be a team to keep an eye on out west this season.
Next up: Atlanta Capitals