3View: Elmira Jr. Soaring Eagles
August 23, 2019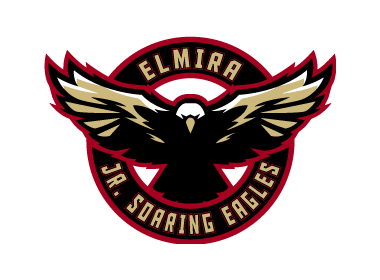 The 3View series will feature an in-depth look into all NA3HL teams in preparation for the 2019-20 season, with two teams being highlighted daily, leading all the way up until the start of the regular season. 3View goes in-depth into each NA3HL team and will include interviews with all the head coaches in the NA3HL, as they provide fans with their expectations and outlook for the 2019-20 season, including taking a look at their potential roster and their strengths as a team for the upcoming season. It will also take a look back on the 2018-19 season and how each team fared and what they accomplished. Best of all, 3View will provide the fans of the NA3HL with an inside look at their favorite team and what to expect.
Elmira Jr. Soaring Eagles (Formerly Binghamton Jr. Senators)
2018-19 Record: 41-6-0, 82 pts (1st in the Northeast Division)
2019 Playoffs: Won Northeast Division, knocked out in Fraser Cup Championship Round Robin
Head Coach: Trevor Simonson
2019-20 Division: Northeast
As the Binghamton Jr. Senators, they owned the Northeast Division of the NA3HL, finishing on top of the regular season division standings for each of the last three years — but that success never quite carried over to the Fraser/Silver Cup Championship. After another dominant showing last season, the newly christened Elmira Jr. Soaring Eagles are looking forward to the opportunity ahead of them.
In order to translate that regular season success into league titles, Elmira Head Coach Trevor Simonson is counting on his veteran players to set the tone alongside some new — but experienced — recruits.
"We plan to lean on 99 returning birth year Liam Murphy (F), 2000 birth year Zac Bell (F), 2000 birth year Thomas Liebold (F), and 2000 birth year Will Darling (D). New talent we are excited about are 2000 birth year Masaki Kawashima (F) from OHA prep, Sam Miller (2000, D) of Colorado who played at East High, and 2000 birth year Jed Butler from the Spokane Braves in the KIJHL," he said.
Even though some frustration may have set in as the Senators stumbled in pool play at the Fraser Cup Championship last season, Simonson is looking forward to carrying over the same winning attitude and strengthening good habits to help his team reach the ultimate goal.
"Expectations for my team this year is to win the Northeast division again and win a national championship. We had a very skilled team last year, but lacked the compete level to take down some of the top teams in the league. This year we're much deeper on the forward and defensive end, and with an older squad, and we should have a bit more composure and size to better our chances," said Simonson.
Not to mention, championships are hardly the only way to classify a successful season or team at this level. As with every NA3HL team, the Jr. Soaring Eagles are eager to see their players soar to new heights, carrying a precedent set back in Binghamton.
"Expectations for myself are to continue our success as a program in helping our players develop and climb the ladder of development to the NAHL. Last year we had Zac Bell play as an AP with Jamestown, Dinmukhamed Dzhangarashev was drafted to Johnstown in the recent NAHL draft, and Markus Cook, who signed a tender and played the final two games of the season with Wilkes Barre in the NAHL (scoring in his first game) has made the 30 man roster and is working to earn a roster spot for the season. Player movement is my biggest motivator and our programs focus," said Simonson.
Of course, talking about advancement is one thing, but Simonson and his staff have an in-depth plan in place to keep players learning and developing as they grow towards taking their next step.
"As a staple of our program, we focus on practice time, physical conditioning and learning how to compete at the next level," he said. "Our players skate twice a day for a combined 2 and a half hours and go to the gym for a team workout every day. We have an hour skills skate where we focus on skill acquisition, how it relates to the teams systems and how it translates to the next level. Most teams only have a single practice each day, so they spend most their time on team work, while we can personally develop players and improve team work with our extra allotted ice time. On top of extra ice and a daily grueling workout, our players get daily video sessions in the form of past games, quality teams from other leagues and skills coaches from around the world. Learn, Grow, Repeat."
Off the ice, the Jr. Soaring Eagles will look to make an impact in their new community this season. "We hope to do another food drive, or two, for the homeless. Also we're going to be spending a lot of time with The Corning and Elmira youth hockey programs. We'll have players assigned to a team and join the youngsters for practices on a weekly basis. We're hoping these strong bonds with our local youth organizations will help develop our players into responsible and helpful adults while putting forth a hand to our biggest fans."
With experienced leadership on the roster and new veterans coming in, is this the year for the Jr. Soaring Eagles to break through and take home the Fraser Cup?
Next up: Gillette Wild