August 25, 2019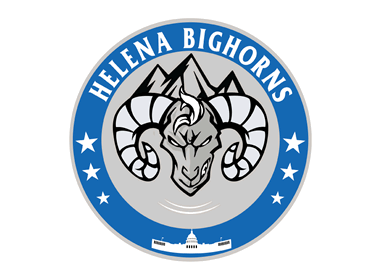 The 3View series will feature an in-depth look into all NA3HL teams in preparation for the 2019-20 season, with two teams being highlighted daily, leading all the way up until the start of the regular season. 3View goes in-depth into each NA3HL team and will include interviews with all the head coaches in the NA3HL, as they provide fans with their expectations and outlook for the 2019-20 season, including taking a look at their potential roster and their strengths as a team for the upcoming season. It will also take a look back on the 2018-19 season and how each team fared and what they accomplished. Best of all, 3View will provide the fans of the NA3HL with an inside look at their favorite team and what to expect.
Helena Bighorns
2018-19 Record: 38-7-2, 78 pts (1st in the Frontier Division)
2019 Playoffs: Lost in Fraser Cup Championship Round Robin
Head Coach: Bob Richards
2019-20 Division: Frontier
The Bighorns posted a campaign to be proud of last season. A season-long with the Americans to take the regular season crown in the Frontier Division by a single point followed by a thrilling playoff win once again over Great Falls punched their ticket as one of six teams to head to Chicago for the Fraser Cup Finals.
And while things fell off there (Helena went 0-2 in pool play with a -9 goal differential), the Bighorns have plenty to look forward to as the new season gets underway, and Head Coach Bob Richards wants his team ready to get good momentum going right out of the gates.
"Our biggest goal is to come out and have a strong start to the season. Our main goal for the regular season is to secure a spot in the playoffs, and second would be to secure home ice advantage for the playoffs," he said.
As the season draws closer, Richards is honing in on the basics to make sure players are building their skillsets from the ground up, ensuring each member of the Bighorns has a strong foundation on which to develop his own style of play.
"Our main focus has always been to keep it simple, be exceptional at the fundamentals, and most importantly be able to do it at speed. In order to do that our players have to be able to skate, so we work on that predominantly. If our guys are good skaters, they will have lots of doors open for them," he said.
Helena relied on a strong team mentality last year to grind out wins in the deep Frontier Division. Without flashy forwards potting points in bunches like teams in other divisions, the Bighorns were able to stay focused and shut opponents down defensively, while boasting an efficient attack. So what's going to fuel the team through a tough slate of games this year? Maybe it's a new set of faces in the locker room that will help maintain a drive towards constant improvement.
"Our key elements were finding good young players with the drive to improve their game. We are quite a bit younger this year compared to last, but all of our players have the hunger to improve, and be good teammates," said Richards.
Or perhaps, savvy veterans eager to get back to Chicago and make some more noise.
"Darren Donovan, Porter Tirrill and Ty Niskanen are three returners up front that will be key players for us this year. All have good size and net front presence, and great leadership attributes. Abe Laggis is returning and will play a full season compared to a pre and post high school assignment that he did last year. Abe will be a key upfront as he has a great 2 way game. Defensively we are returning 3 from our group of 8, with JJ Blondin, Ian McIntosh, and William Wallace. All 3 will see significant increases in playing time this season, and will be the core of our defensive group," said Richards.
Either way, count on another tight-knit group carrying the torch under Richards this season. And the team mentality doesn't stop in the locker room — Richards has his players regularly interacting with local charities, schools and other youth-focused programs to help give back to the fantastic Bighorns faithful.
"Helena is a smaller city, so we really strive to make sure we are involved in community events. We help out with the Youth Hockey Association here, as well as maintain a strong presence in the schools volunteering for recess duty or greeting kids in the morning as they arrive at school. We run various promotions throughout the year to help the local food pantries, toys for tots, and other non profits at our games to help with donations. We enjoy great fan support at our games, and we are always looking to give back through community service, especially when it helps the children of Helena," he said.
With their division rivals in Great Falls re-tooled and ready to scrap for another 47 games, expect the new-look Bighorns to step up once more and make it an exciting season in the Frontier.
Next up: L/A Nordiques