3View: Missoula Jr. Bruins
August 28, 2019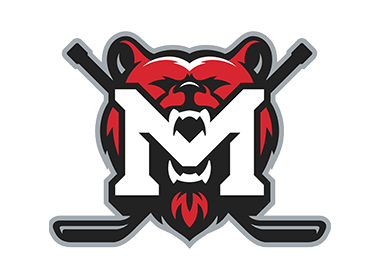 The 3View series will feature an in-depth look into all NA3HL teams in preparation for the 2019-20 season, with two teams being highlighted daily, leading all the way up until the start of the regular season. 3View goes in-depth into each NA3HL team and will include interviews with all the head coaches in the NA3HL, as they provide fans with their expectations and outlook for the 2019-20 season, including taking a look at their potential roster and their strengths as a team for the upcoming season. It will also take a look back on the 2018-19 season and how each team fared and what they accomplished. Best of all, 3View will provide the fans of the NA3HL with an inside look at their favorite team and what to expect.
Missoula Jr Bruins
2018-19 Record: 27-19-1 (4th in Frontier Division)
2019 Playoffs: Lost in first round
Head Coach: Cliff Cook
2019-20 Division: Frontier Division
The Missoula Jr Bruins will be returning after a tough fought three game standoff against the Helena Bighorns in last season's Frontier Division Semi-Finals. Although they were unable to make it passed the first round of playoffs, Head Coach Cliff Cook sees last season as a success in his book.
"The goals for our team don't change year-by-year. We want to give our players every opportunity to continue their development in order to give them the tools needed to play at the next level, whether that's NAHL or college. We had good success last season in my first year in Missoula, all our aging out players received a college offer of some kind at various levels, and we were fortunate enough to have two defensemen drafted in the NAHL (Connor Frye – Amarillo Bulls, Trevor Prince – Wilkes-Barre/Scranton Knights)," said Cook.
And while some teams measure success strictly by wins and titles, Cook chooses to focus more specifically on player development and advancement.
"We aren't here to worry about raising banners in our building. Winning titles is great and if it happens we won't complain obviously, but the success for our program is seeing players get a chance to play at the NAHL or collegiate level. I believe we do a fantastic job of putting together dynamic player profile packages that are sent out monthly to teams throughout the NAHL, BCHL and NCAA. Those are the starting points. As we move further in the season, we assess what the best plan is for each player, whether it be NCAA D3 or a quality ACHA club program. We are firm believers the right program is out there for each of our guys and we want to find that for them," Cook said.
In order to ensure his player are ready to move on to the next level, Cook and his staff focus heavily on their players' skill development.
"From an on-ice standpoint, my assistant coach Mike Anderson, along with being a very intelligent hockey coach, is one of the most talented individual skills coaches I've ever been around. Once a week he takes over practice and we do an hour-plus of station-based drills to work on that individual development. While we make sure that fun is not lost in our program, we do provide a solid structure to make sure guys are working hard and doing things the right way on and off the ice," Cook said.
"As we say frequently, what we do on ice pales in comparison to the effect we can have in a young man's life off the ice. If our guys can walk out of Missoula as better hockey players that's great, if they can walk out of here as better people, that's the biggest win for us."
Cook's recruiting process is focused more on players who are leaders and hard workers, rather than the top skilled players. Cook is more than confident that his staff can develop the skills his players need to become successful, which is why he looks for the players with characteristics that one can't teach.
"We don't look for specific types of players while recruiting other than we love seeing players who were leaders on the former teams and known to be hard workers. Some of that is on purpose and some out of necessity. Our philosophy is to take the tools the player already has and build on that. We aren't trying to turn anyone into something they're not," Cook said.
Continuing with his unique coaching style, Cook likes a free-wheeling team, which he allows to be as creative as possible.
"We run almost no systems during the season, instead focusing on developing the individual skills all players need to progress to the next level. Learning to play a system-less and position-less game is a major adjustment for the players who are used to a very structured style of hockey their entire lives, but the game has changed over recent years and making sure, as a developmental league, we are concentrating on building the player's skills are key. They are then able to take those skills into any system moving forward and be successful," Cook said.
Cook stresses player development and growth in all aspects of the game. Not only from a skill standpoint, but in high importance game situations as well.
"We depend on everyone up and down our lineup. Everyone gets opportunities here. A prime example of that is in our playoff win last season at home against the Helena Bighorns. It was the first playoff win in our three-year franchise history and the game-winning goal wasn't scored by one of our uber-talented Russian players, it was scored by a grinder-type player who, for many teams, may not have even been on the ice in that situation. But we run our team on the idea that how do you know if a young man can be successful in a pressure opportunity if you don't give him the chance," Cook said.
Although Cook likes to give all of his players an opportunity to excel in game situations, the Jr. Bruins will have a crop of veteran players they will rely on for experience and leadership.
"We do have upwards of (seven to eight) returners, which in a way is bittersweet. We love having the guys back and are honored they are excited to come back and continue learning from us, but we also wish all our players had the chance to move up to the next level. But we are realistic and honest with our guys, and they know we will do what is best for each and every one of them. There is no cookie-cutter path for players. They all have an individual path that lies ahead, and we have to maintain constant communication with them in order to help them achieve that path," Cook said.
As for the younger Bruins, personal development away from the rink will also be a paramount focus for Cook and his staff.
"It's important for our guys, most of who are away from home for the first time, to experience what it's like to become a member of a community and learn about the area they call home for 6-7 months. These off-ice interactions create great friendships, community pride and the added bonus of pretty nice crowds at Glacier Ice Rink during the season," Cook said.
The Jr Bruins do their best to participate in events around the community as much as possible.
"We get our players involved in the community on a weekly basis. While last year we didn't get as much accomplished as we would have preferred, this season we already have plans for school visits throughout the season, including reading to kids and helping out during P.E. classes. We will also offer our support to the local Food Bank and shelters, both human and animal," Cook said.
The Missoula Jr Bruins employ a more free-wheeling game plan as opposed to a more systems-based style used by many teams, but their unique way of playing may prove to be their greatest strength.
Next up: New England Knights