August 30, 2019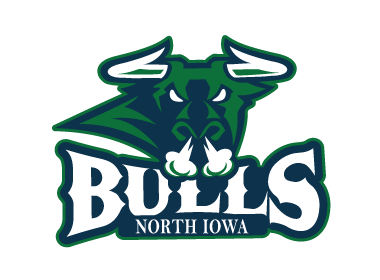 The 3View series will feature an in-depth look into all NA3HL teams in preparation for the 2019-20 season, with two teams being highlighted daily, leading all the way up until the start of the regular season. 3View goes in-depth into each NA3HL team and will include interviews with all the head coaches in the NA3HL, as they provide fans with their expectations and outlook for the 2019-20 season, including taking a look at their potential roster and their strengths as a team for the upcoming season. It will also take a look back on the 2018-19 season and how each team fared and what they accomplished. Best of all, 3View will provide the fans of the NA3HL with an inside look at their favorite team and what to expect.
North Iowa Bulls
2018-19 Record: 32-12-3, 67 pts. (2nd in the West Division)
2019 Playoffs: Lost in Fraser Cup Semi-Finals
Head Coach: Todd Sanden
2019-20 Division: West
Just three seasons removed from summiting the NA3HL mountain for the third time in four years, the Bulls eased through much of last season with a well-balanced offense and a stout team defense as they reached the Fraser Cup Semi-Finals before losing to eventual champion Texas. And though they full short of the ultimate goal last year, their remarkable streak of playing postseason hockey every year since joining the NA3HL — including six trips to the Fraser Cup Championship as one of the final six teams — carried on for an impressive eighth year in a row.
Heading into a new slate of contests, Head Coach Todd Sanden expects that North Iowa consistency to shine through once more.
"In North Iowa our goal is to be in contention for a West division regular season championship and position ourselves for a strong playoff run. Our ultimate goal is to help as many players as possible advance to the NAHL and be productive college hockey players," he said.
The goal of advancing players to the NAHL and collegiate hockey was a clear focus for Sanden and the Bulls last year, as a whopping seven players signed tenders with NAHL teams — at least four more than any other NA3HL team.
"With a team record of 9 players protected (seven tendered and two drafted) by NAHL teams after the NAHL draft this year we are hopeful that we can extend that opportunity to as many players next season. It's always our goal to move players up and the NAHL does a good job of facilitating that process. Of our seven players tendered last year, five of those players practiced with the NAHL team that tendered them. Proving that the leagues are making opportunities available and resulting in players earning promotions is outstanding. Our college focus has always been to find the player the right spot for their education and where they can be productive members of their collegiate team," said Sanden.
But even with those eye-catching advancement numbers, North Iowa still looks set to feature a few key veterans that carried the squad during a deep playoff run last season.
"Matt Dahlseide and Cam Fagerlee are undoubtedly two key players to watch this year. Both are in their last year of junior eligibility and third year players for us. Cam and Matt will be looked upon for leadership and production. Both are very talented players and will be expected to be top producers for us. These are two players for colleges to focus on as they both have had solid junior careers to this point," said Sanden.
Players like Dahlseide and Fagerlee represent the top of the Bulls' pyramid, but don't overlook the importance of fresh faces to the North Iowa lineup. After seeing so many players advance to higher levels of hockey, the Bulls' back end, in particular, will have ice time up for grabs for hungry rookies and other young players.
"Our veteran players are usually the key to our success and drive the culture of our program. Looking at our current roster and committed players we are focusing on our blue line right now. With several North Iowa defensemen on NAHL training camp rosters there is opportunity for incoming defensemen to make an immediate impact for us. Keeping our expectations high and in line with setting and maintaining personal player goals is important to the success of our team," said Sanden.
Sanden also emphasizes the importance of giving back to both the game of hockey, and the community in Mason City.
"In North Iowa we are deeply rooted in the youth hockey promotion and take active roles in helping youth teams with camps and practices. We are also well situated with players being available for and taking part in many volunteer opportunities. Being active in the community is a positive program experience and our team makes a strong commitment to be as available as possible," said Sanden.
A perennial contender, Sanden and the Bulls will be eager to take another step back towards the top of the mountain as they look to reclaim their perch atop the league's elite.
Next up: Northeast Generals