August 31, 2019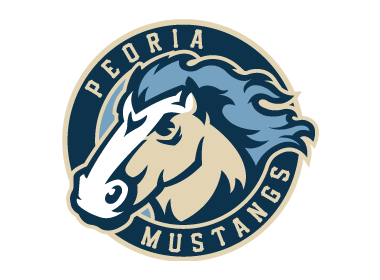 The 3View series will feature an in-depth look into all NA3HL teams in preparation for the 2019-20 season, with two teams being highlighted daily, leading all the way up until the start of the regular season. 3View goes in-depth into each NA3HL team and will include interviews with all the head coaches in the NA3HL, as they provide fans with their expectations and outlook for the 2019-20 season, including taking a look at their potential roster and their strengths as a team for the upcoming season. It will also take a look back on the 2018-19 season and how each team fared and what they accomplished. Best of all, 3View will provide the fans of the NA3HL with an inside look at their favorite team and what to expect.
Peoria Mustangs
2018-19 Record: 26-18-3 (4th in Central Division)
2019 Playoffs: Lost in first round
Head Coach: Steve Ortman
2019-20 Division: Central Division
The Mustangs surprised many NA3HL fans during the 2019 playoffs by pushing top-seeded Coulee Region to the brink of elimination, and despite ultimately falling to the Chill, there's reason for excitement in Peoria. Some exciting player advancement -- like Tristan Trudel being tendered by the Springfield Jr. Blues of the NAHL, Brandon Hay committing to Illinois and Jack Radley committing to Lindenwood University -- could leave some holes to fill, but the bittersweet nature of advancement means spots are available to hungry young Mustangs.
One notable returner, however, is standout netminder Jaden Gardner, which is excellent news for Head Coach Steve Ortman, who prides himself on relating to each one of his players.
"For myself, as a coach, my goal is always to keep learning and improving. One of the most important things I can do is learn about my players, what makes them tick both on and off the ice. Making sure as a coach, I change with the ever-changing game of hockey is also critical to moving players, the team, and our organization forward," Ortman said.
Because hockey is turning into a much more physically demanding game, players and trainers are finding and implementing new and improved ways to develop skill sets. Maximizing workout results via new technologies, recovery systems, and dietary information has become a large part of a hockey player's off-ice regimen. Especially if they are looking to play at the highest level possible.
"The Mustang gym is right in the rink, so we have individual and team workouts and diet plans catering to each player's needs all provided by our trainer/strength and conditioning guru Greg Eberle," Ortman said, "Our primary focus has always been and will continue to be on skill development. That is what all players need to move to the next level, along with that is ice time. We are adding more ice time each week. With 6 plus hours of on-ice time, we will see the development of our players increase."
The Mustangs will be working with newer talent again this season, but a revamped training plan and a veteran presence with memories of last season's successes will push the new squad to new heights on the hunt for a Fraser Cup. Not to mention, bigger bodies in the mix can help teams dominate a given game, and Ortman is going to be looking for those players to get involved and mix things up during games as well.
"We do have a young team again this year, and with that, working on systems is a priority. We have added size and skill to our lineup this year. I expect all my young players that are returning from last year to excel. They now have a year under their belts, they know the expectations, systems, and workout schedule, so I'm excited to see what they can do with that experience. I'm looking forward to seeing what the size of some of our new players will add to our team too," Ortman said.
The Mustangs also pride themselves on success away from the rink as they look to impact the Peoria community.
"Community service is key for our players in Peoria. We do a lot with local events, visiting schools, working with the youth hockey program. Anything we can do to get the guys involved throughout the community" Ortman said.
The Mustangs may be a young team, but with extra ice time and increased off-ice training they are implementing this season, it's beginning to look like an interesting year in Peoria.
Next up: Rochester Grizzlies