3View: Rochester Grizzlies
September 1, 2019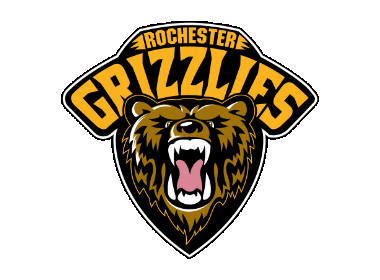 The 3View series will feature an in-depth look into all NA3HL teams in preparation for the 2019-20 season, with two teams being highlighted daily, leading all the way up until the start of the regular season. 3View goes in-depth into each NA3HL team and will include interviews with all the head coaches in the NA3HL, as they provide fans with their expectations and outlook for the 2019-20 season, including taking a look at their potential roster and their strengths as a team for the upcoming season. It will also take a look back on the 2018-19 season and how each team fared and what they accomplished. Best of all, 3View will provide the fans of the NA3HL with an inside look at their favorite team and what to expect.
Rochester Grizzlies
2018-19 Record: 31-15-1 (3rd in West Division)
2019 Playoffs: Lost in first round
Head Coach: Chris Ratzloff
2019-20 Division: West Division
The Grizzlies had a big first season in 2018-19, and look to build on that momentum this upcoming season. Growth is key for Rochester, and Head Coach Chris Ratzloff has his sights set high heading into this season.
"Our expectations as a team are to improve on last season in all categories. My expectations of myself are to help each player reach their goals and help them prepare for and get opportunities at the next level, whether that is the NAHL or College," Ratzloff said.
Last season, Ratzloff was successful in the fact that he had three of his forwards tendered by NAHL teams. Matthew DeRosa signed a tender with the Jamestwon Rebels, Peyton Hart signed a tender with the Janesville Jets, and Oskar Stahl was tendered by the Austin Bruins. Four of last season's Grizzlies also committed to play in college. And although they will be losing these key players from their lineup, Ratzloff is confident in putting a strong team on the ice again this season.
"Our returners will be our core, and we will focus on a lot of skill development and competition to get our new guys up to speed," Ratzloff said, "We seem to have good depth with what we have back and the new recruits, so we hope to roll 4 lines and expect that eventually everyone will contribute. Casey and Mike did a great job last year and in the off season, so we are excited about our players."
Ratzloff focuses heavily on player development as a key to the Grizzlies' success. To ensure that he has his new players ready to play at the next level and contribute with his veterans, Ratzloff takes advantage of the team's off-ice training, while putting emphasis on increasing strength and talent.
"Skill development and off-ice training will be a focus, the season is so long and players this age are spending their Summers at pre-draft and main camps, so it isn't enough to just maintain during the season. We have to use our off-ice wisely as a strength building time," Ratzloff said.
Ratzloff keeps his players busy off the ice not only with focused weightlifting and skills training, but also through philanthropy work within the community.
"Our community involvement was a great success last season and we are planning to step it up this year. Along with Habitat for Humanity, reading in school, Salvation Army Red-Kettle bell ringing, we also plan to help out on ice again with Rochester Youth Hockey, the Little Grizzlies and USA Hockey Learn to Skate.
With last year's success as a starting point, the Grizzlies have plenty to look forward to in the new year.
Next up: Sheridan Hawks