3View: Wausau RiverWolves
September 4, 2019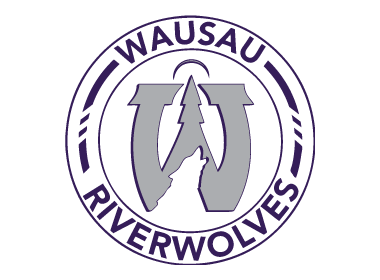 The 3View series will feature an in-depth look into all NA3HL teams in preparation for the 2019-20 season, with two teams being highlighted daily, leading all the way up until the start of the regular season. 3View goes in-depth into each NA3HL team and will include interviews with all the head coaches in the NA3HL, as they provide fans with their expectations and outlook for the 2019-20 season, including taking a look at their potential roster and their strengths as a team for the upcoming season. It will also take a look back on the 2018-19 season and how each team fared and what they accomplished. Best of all, 3View will provide the fans of the NA3HL with an inside look at their favorite team and what to expect.
Wausau RiverWolves
2018-19 Record: 9-37-1, 19 pts (6th in the Central Division)
2019 Playoffs: Did Not Qualify
Head Coach: Colin Bailey
2019-20 Division: Central
Two years after joining the NA3HL, the Riverwolves have notched 19 wins in 94 games and one playoff appearance along the way. Their sixth-place finish in the packed Central Division last year was perhaps more of a result of deep talent within the division, but it certainly wasn't where they wanted to end up. But as former assistant Colin Bailey steps into the Head Coach role, changes are afoot in Wausau. And with the fanbase gearing up to support their boys once more, Bailey and his team know they have to step up this season.
"Wausau is a hockey-crazy town with a fantastic fan base. The support that we receive from our community is second to none and our goal for this season is to give our fans the season that they deserve," said Bailey.
In order to do that on the ice, it's all about building from the ground up and establishing a new tradition of success in the Riverwolves' locker room.
"This fall we plan to develop a team culture that has not been a priority in prior seasons in Wausau. We look to implement a culture where winning and being competitive becomes second nature" said Bailey.
But away from the rink, Bailey wants to ensure his players are learning and developing on a personal level outside of hockey by giving back to the community that so fervently supports them.
"It is crucial for these players and our team to have a face in the community," said Bailey. "For all of the support that our city gives us, the least that we can do is pay it forward by having a face within the community. It's important for our players to be role models, especially to the youth players who look up to them.
"The Riverwolves are very involved in the community of Wausau, taking part in many events that range from Special Olympics to bell ringing for the Salvation Army. The Riverwolves also look to have a large involvement in local youth hockey programs, with the hopes of continuing to grow and nurture the game of hockey within central Wisconsin."
The Riverwolves advanced four players onto collegiate hockey last season, as Janne Rukamp went to Iowa State, Barak Broad to Utah State, and both Colin Brey and Alex Piotrowski to Northern Illinois University, and while Wausau still looks for its first commitment to an NCAA program, their priorities have always been set on advancement.
"The goal for everyone here is to become the best that they can be so that they can progress to higher levels of hockey. The NA3HL does a fantastic job of giving our players the opportunity to excel and showcase their abilities." says Bailey "It will be up to the players to make the most of every opportunity presented to them," said Bailey.
It hasn't always been smooth sledding in Wausau, but with a passionate fan base behind them and a new bench boss to lead the way, the Riverwolves are looking to make a triumphant return to the Fraser Cup Playoffs in 2020.
Next up: Willmar WarHawks