September 5, 2019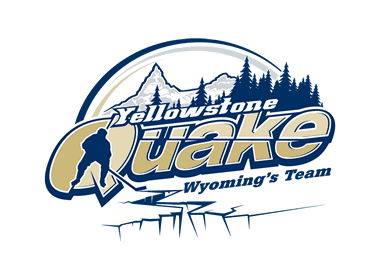 The 3View series will feature an in-depth look into all NA3HL teams in preparation for the 2019-20 season, with two teams being highlighted daily, leading all the way up until the start of the regular season. 3View goes in-depth into each NA3HL team and will include interviews with all the head coaches in the NA3HL, as they provide fans with their expectations and outlook for the 2019-20 season, including taking a look at their potential roster and their strengths as a team for the upcoming season. It will also take a look back on the 2018-19 season and how each team fared and what they accomplished. Best of all, 3View will provide the fans of the NA3HL with an inside look at their favorite team and what to expect.
Yellowstone Quake
2018-19 Record: 5-40-2, 12 pts. (7th in the Frontier Division)
2019 Playoffs: Did Not Qualify
Head Coach: Phil Oberlin
2019-20 Division: Frontier
A run of three consecutive trips to the Fraser Cup Championship as one of the final six teams came to a bitter end last season, as the Quake missed the playoffs entirely for the first time since their inaugural 2014-15 season. But despite their five-win showing in 2018-19, Head Coach Phil Oberlin says his squad can still earn that championship pedigree — if they're willing to work for it every day.
"The expectations for ourselves as a staff, our individual players and our team as a whole is to show up to the rink everyday with the effort and attitude to improve and take steps in the right direction. We expect our team to be a hard team to play against. We know that if we work every single day to improve we'll put ourselves in a position to compete for a championship," he said.
Part of Yellowstone's struggles last year were due to a lack of depth and experience on the roster. Oberlin took steps to fix that this year, returning more than a dozen players and adding some talented youth to fill in the gaps.
"Our focus was to improve on our roster size from last year. We struggled from the beginning of last season partially due to a small roster size and only returning 1 veteran player from the previous team. This year we'll return 14 players which will give us more depth in all positions. We also wanted to focus on bringing in younger players who will have an immediate impact on the team's success," he said.
The most exciting thing for Quake fans is the type of returners they'll see in 2019-20. High-scoring forwards, bruising blue-liners and show-stopping net minders will feature heavily for Yellowstone this winter. Add a healthy dose of young scorers into the mix, and you've got the makings of a strong team in the Frontier.
"We want to win as a group and we'll need all of our players to contribute in order for us to have success. However, we're expecting for our veterans Dylan Rumpke (01) and Jack Harris (01) to lead the way offensively but we feel our younger players such as Tyler Cramer (02) and Will Sobaski (02) could have breakout years. After having a year of experience we expect for Evan Snyder (01), Mason Merager (01), Kirwin Johnson (00) and Nick Castro (00) to shine as our core defensive group. Along with our veterans from last year we expect an offensively impact from Spencer Platt (02) and an added physical presence from Seth Bennett (01) on the blue line. Just like last year our goaltending will be great with the return of Michael Allman (99) and Logan Cooksy (00)," said Oberlin.
Of course, boasting so many returners is a bittersweet fact — the Quake did not commit any members of the 2018-19 team to college — but Oberlin says that he and his staff are looking to be more active in advancement efforts this season in hopes of helping his players realize their dreams.
"Along with our on-ice development, we're continuing to make contacts with Tier 2, Tier 1 junior programs and college programs in order to build those relationships for our players into the future. Anything we can do to assist our player in moving forward in their hockey careers is what we're going to do," he said.
The Quake won't just be looking to make some magic on the ice, but off it as well, as they continue to improve their community in and out of the arena.
"We will be working throughout the community all year. Before the weather turns cold we assist Cody, WY residence who are moving and need help with some heavy lifting. We will be having a community skate with the Quake pre-season to help Riley Arena attract more patrons and hopefully attract more kids to the game of hockey. We will be running the Learn To Play Hockey program for the Park County Youth Hockey Association. We volunteer throughout the year at the public library to read and play games with younger kids in the Cody community. Lastly, we are working with Bright Futures, which is a program designed to teach elementary school kids about different career options into the future. The program also focuses on team them about teamwork and other valuable life lessons as they move into their teenage years," said Oberlin.
A long list of veterans coming back for another crack at NA3HL glory after a down year in 2018-19 sets the Quake up with a glorious opportunity to reclaim their glory days and finish with they started during past Fraser Cup Playoff runs.