Jr. Blues look to be the match for marrow donors
October 4, 2019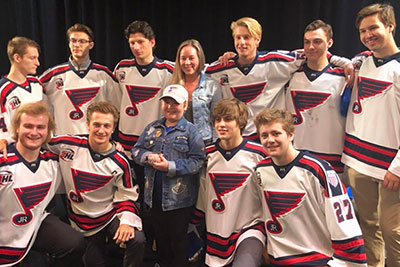 The St. Louis Jr. Blues, proud members of the NA3HL, got the chance to take part in a unique event this week where they added their names to the National Bone Marrow Donor Registry, alongside one of the most notable figures in the St. Louis Blues Stanley Cup run.
The event was organized by Be the Match, a non-profit group that educates the public on the importance of bone marrow transplants and encourages the public to add their names to the national bone marrow donor registry.
It featured a conversation with Laila Anderson, who became a popular figure with the Blues and their fans as she fought a rare immune-system disease that required a bone marrow transplant. Following the event, several Jr. Blues players not only spoke with Laila and posed for pictures, but also signed up to be potential bone marrow donors themselves. Players were "swabbed" and their genetic markers were stored, expanding the pool for patients such as Laila to find a "perfect match" and potentially save lives.
"One of the hallmarks of our program is improving our players not just in their hockey careers, but also as young men and members of society," said Jr. Blues head coach Chris Flaugher. "We want our players to see the good that the sport of hockey can do in the community, and what they can do to help others."