Friday Finals: Blizzard get big out-of-division win
October 5, 2019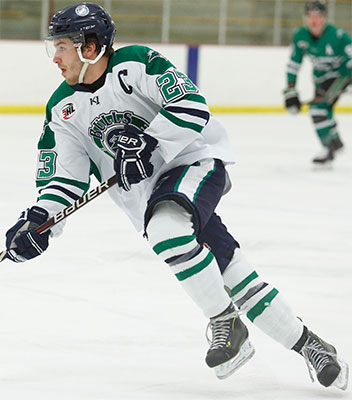 Alexandria 7 @ Milwaukee 3 - Brandon Connett could not be stopped as he scored twice and chipped in two assists. Michal Trejbal added a goal and two helpers while Caleb Strong finished with four assists. Cole Lehmann, Connor Busse, Wyatt Blahosky and Dallas Duckson all scored for the Blizzard in the win. Ville Hyttinen turned aside 22 shots in the win. Wesley Knutson tallied two goals and Donovan Balisteri added a goal for the Power. Joey Greilich made 35 saves in the loss.
Coulee Region 3 @ Rochester 2 - Marco Escobar's third period goal held up to be the game winner as the Coulee Region Chill outlasted the Rochester Grizzlies by a score of 3-2. Parker Severson led the Chill with a goal and an assist while Gadded Khismatullin also found the back of the net. Devin Naidow made 41 saves to pick up the win in net. Porter Haney and Joey Fodstad each tallied a goal and an assist. Mathias Backstrom took the loss as he made 28 saves.
Willmar 1 @ North Iowa 11 - Cam Fagerlee recorded a hat trick and added an assist in the North Iowa Bulls 11-1 rout of the Willmar WarHawks. Nick Bowlin had a goal and four assists to lead all skaters with five points. Matt Dahlseide had a goal and three helpers. Lucas Wahlin, Nico Aguilera, Sota Isogai, Jordan Roo, Ryan Hempel and Austin McNeil all found themselves on the scoresheet, Evan Babekuhl denied 22 of 23 Willmar shots. Danny Klatt scored the lone goal for the WarHawks while Luc Haggitt and Gunnar Banks combined for 25 saves.
Wausau 3 @ Breezy Point 5 - Two goals from Garrett Freemon and three points from Mario Maietta propelled the Breezy Point North Stars to a 5-3 win over the Wausau RiverWolves. Jordan Linder had a goal and an assist and Alec Sorby chipped in a goal as well. Jacob Mitchell was phenomenal in goal as he made 47 stops in the victory. Tanner Eskro, Robert Carlson and Cooper Anderson all found the back of the net for Wausau. Tyler Klatt stopped 58 of 62 shots in a losing effort.
Maine 1 @ NE Knights 6 - Leevi Kervinen had two goals and an assist while Max Burum also lit the lamp twice in the Knights 6-1 win over the Maine Wild. Nolan Murphy and John Hutchinson each scored for the Knights and Zach Roncarati allowed just one goal on 31 Wild shots. Jayden Werner provided the only goal for Maine. Tom Spero stopped 59 shots.
Bozeman 4 @ Helena 3 - The Icedogs improved to 6-0 on the season as they came out of Helena with a 4-3 victory. Christian Veneruzzo scored twice and Hayden Groth grabbed a goal and an assist. Sam Bourdon had a goal and an assist as well for Bozeman. AJ Ruskowski stopped 45 shots. Nicholas Cenis, Isaac Ellingson and Darren Donovan all scored for the Bighorns in the loss. Aidan Waal made 50 stops.
Gillette 6 @ Butte 2 - Nathaniel Fanning scored twice and Mason Hoffman registered three assists as the Wild defeated the Cobras 6-2. Declan Young and Tyler Kaminski each had a goal and an assist. Pablo Palos and Jacob Kaminski added goals as well. Shane Phillips got the win in goal as he made 24 saves. Kyler Garsjo and Robin Bagley scored for the Cobras and Aiden Waal made 79 saves.
Great Falls 1 @ Sheridan 6 - Jonathan Teasdale scored twice and chipped in an assist as the Sheridan Hawks took care of the Great Falls Americans 6-1. Justin Schwartzmiller potted a goal and three helpers, Alex Kesler had a goal and an assist and the Hawks got help from Trevor Time and Kolten Wright. Zach Hearn stopped 28 shots. Jake Hayes provided the only offense for the Americans while Viktor Wennberg and Trever Mellon combined for 39 saves.
Missoula 5 @ Yellowstone 2 - The Jr. Bruins defeated the Yellowstone Quake 5-2 as Cayce Balk scored a pair of goals. Wyatt Ploot, Henry Morrison and Chase Wilhelm all lit the lamp in the win. Larkin Dolan stopped 41 shots to pick up the win in the crease. Cade Rosansky and Will Yates scored for the Quake. Hudgel Selk and Michael Allman teamed up to make 24 saves.