October 11, 2019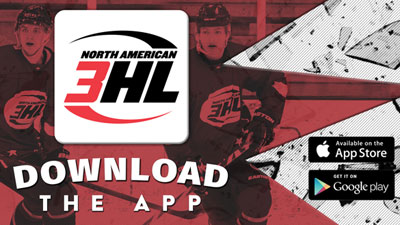 Fresh of the heels of the successful NA3HL East Showcase this past week in Attleboro, Massachusetts, the NA3HL gets back into 2019-20 the regular season schedule this weekend with 33 games. Over 60 NCAA and college scouts attended the event.
Follow the games on the NA3HL App:
The NA3HL is entering its 10th anniversary season in 2019-20 and serves as one of the top training grounds in the country by providing the best coaching, exposure and developmental vehicles available for student-athletes in Tier III junior hockey. It is one of only two USA Hockey-sanctioned Tier III junior leagues.
No other league has had more movement and advanced more players onto play in the NAHL than the NA3HL. Thanks to additional and enhanced initiatives that were put in place this past season in cooperation with the NAHL, more players from the NA3HL play, practice, and earn NCAA Division I scholarships with the NAHL than any other league.
To begin the 2019-20 season the NA3HL had over 40+ alumni listed on NAHL rosters. Earlier this summer, not only did 26 NA3HL players sign a tender to play in the NAHL for the 2019-20 season, but 26 more players were selected in the 2019 NAHL Draft.
FRI, OCTOBER 11
New England Knights at Northeast - 7:00 PM EST
Granite City at Alexandria - 7:10 PM CST
Atlanta at Mid Cities - 7:30 PM CST
Breezy Point at North Iowa - 7:30 PM CST
Coulee Region at Wausau - 7:30 PM CST
Texas RoadRunners at Texas Brahmas - 7:45 PM CST
Gillette at Missoula - 7:05 PM MST
Yellowstone at Bozeman - 7:30 PM MST
Helena at Great Falls - 7:30 PM MST
Butte at Sheridan - 7:30 PM MST
SAT, OCTOBER 12
Northeast at New England Knights - 3:00 PM EST
New England Stars at L/A - 3:30 PM EST
Atlanta at Mid Cities - 5:30 PM CST
Danbury at Skylands - 6:30 PM EST
Rochester at Peoria - 6:45 PM CST
Milwaukee at Coulee Region - 7:00 PM CST
Wausau at St. Louis - 7:00 PM CST
Alexandria at Granite City - 7:30 PM CST
Breezy Point at North Iowa - 7:30 PM CST
New Ulm at Willmar - 7:30 PM CST
Texas RoadRunners at Texas Brahmas - 7:45 PM CST
Long Beach at Maine - 9:00 PM EST
Butte at Sheridan - 7:00 PM MST
Helena at Great Falls - 7:30 PM MST
Gillette at Missoula - 7:30 PM MST
Bozeman at Yellowstone - 7:30 PM MST
SUN, OCTOBER 13
Danbury at Skylands - 12:00 PM EST
L/A at New England Stars - 1:20 PM EST
Long Beach at Maine - 2:00 PM EST
Wausau at St. Louis - 1:00 PM CST
Rochester at Peoria - 1:15 PM CST
Texas RoadRunners at Texas Brahmas - 2:05 PM CST
Atlanta at Mid Cities - 5:30 PM CST