Friday Finals: Icedogs stay undefeated with 4-1 win
October 12, 2019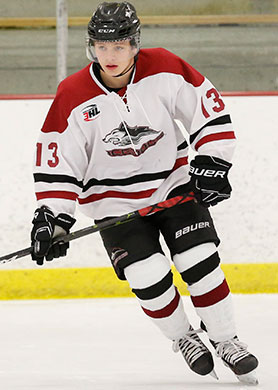 Yellowstone 1 @ Bozeman 4 - Hazen McKay picked up his third hat-trick of the season in just eight games to push the Icedogs to a 4-1 win to keep their perfect record intact to start the season. Luke Hartge bagged the other Bozeman goal, as Domagoj Troha stopped 34 of 35 for the win. Dylan Rumpke put Yellowstone on the board in front of a strong 57-save effort by Michael Allman.
NE Knights 3 @ Northeast 4 - The Generals entered the third down by a pair, but Carson Asper kicked off a comeback with his second goal of the game early in the final frame before Kolye Bankauskas and Stephen Gerbis finished off the Northeast resurgence en route to a 4-3 win over the Knights on Friday. New England received two goals from Martin Dlugolinsky and an individual marker from Nolan Parker, as well as 45 saves from Patrick Gribbin in net, but just couldn't do enough to best Justin Simmons in the Northeast net, who made 26 saves on the night.
Granite City 5 @ Alexandria 3 - The Lumberjacks raced to a 4-0 lead and held off a furious late Blizzard comeback to take a 5-3 road win on Friday. Bailey Sommers, Jonah Jangula, Josh Baker, Carson Simon and Sean Davidson provided the Granite City offense, while Caleb Strong, Alex Heidenreich and Brandon Connett paced Alexandria's late comeback bid. Nate Johnston turned aside 21 of 24 for the win, while Ville Hyttinen faced down 33 for Alexandria.
Atlanta 4 @ Mid Cities 7 - Brady Nelson nabbed a hat-trick in a span of 5:40 during the second period to highlight a back-and-forth affair that his Stars won 7-4 over the Capitals. Zach Perez, Brandon Speights, Hunter Leonhard and RJ Muckensturm joined in on the Mid Cities attack, while Ryan Berke, Andrei Rusakov, CT Johnson and Jesse Keicher lit the lamp for Atlanta. Noah Kinsinger put on a standout showing in the Stars' net with 43 saves, outmatching 21 from Atlanta netminder Noah Ping.
Breezy Point 2 @ North Iowa 8 - Dueling hat-tricks from Sota Isogai and Cam Fagerlee and a 14-save effort from Joseph Daninger guided the Bulls to a comfortable 8-2 victory over the North Stars at home on Friday. Also scoring for North Iowa were Jordan Roo and Harrison Stewart. Breezy Point featured Zeph Goret and Mario Maietta lighting the lamp, while Conan Hayton stood strong with 50 saves between the pipes.
Coulee Region 2 @ Wausau 4 - Tyler Klatt's herculean, 56-save performance in the RiverWolves' net provided the spark for his team to knock off the Chill 4-2 on Friday. Ian Raddatz, Jared Meyer, Tanner Eskro and Kasey Couture found twine for Wausau, as Klatt conceded only to Marco Escobar and Sam VanderHoeven of Coulee Region. Devin Naidow and Gunnar Snyder combined for 35 saves in the Chill cage.
TX Roadrunners 0 @ TX Brahmas 8 - 10 saves were all it took for Kayden Hargraves to notch the shutout, as seven different Brahmas found twine in an 8-0 win over the Roadrunners. Reigning South Division Star of the Week Jack Cooper potted a pair, with Richard Indermill, Matej Palfy, Blake Rothstein, Leevi Selanne, Danny Barry and Ian Erdman each hit the scoresheet as well. Cole Garver and Blake Forystek posted a shared 33 saves for the Roadrunners.
Gillette 5 @ Missoula 2 - Danny Ramos and Declan Young each scored twice to carry the Wild to a tight 5-2 win on the road against the Bruins. Jacob Kaminski also found the scoresheet for Gillette, while Tyler and Trevor Prince each posted goals for Missoula. Shane Phillips took home the win in the Gillette crease with 24 saves, while Larkin Dolan put up 32 stops in the loss.
Helena 2 @ Great Falls 4 - The Americans rattled off three unanswered goals in the third period to erase a 2-1 deficit and win 4-2. Jack Olson led the effort with three assists, as Kellen Harris, Hendrik Robel, Levi Mese and Jake Hayes lit the lamp. Viktor Wennberg put up a wall in the Great Falls net, making 40 saves, as only Isaac Ellingson and Andrew Deskin of Helena were able to beat him. Rylan Labrie stopped 38 pucks in the loss.
Butte 3 @ Sheridan 12 - The Hawks' offense came to play in a big way on Friday, as Blake Billings put up four goals and Steven Delikat and Justin Schwartzmiller each bagged doubles en route to a 12-3 romp over Butte. Cade Tennessen, Logan Syrup, McCaffrey Billings and Jack Royer rounded out the high-scoring Sheridan attack, while Luke Fundator turned aside 21 to backstop the win. Nick Bradshaw led the Cobras with two goals on the night, with Robin Bagley adding another of his own in front of a stunning 78 saves by Aiden Waal in the loss.