Several Grizzlies players spend bye week in NAHL
October 25, 2019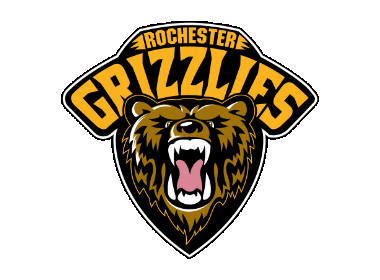 The Rochester Grizzlies of the NA3HL had a lot of player activity up in the North American Hockey League (NAHL) this week, which included the call up of a player to an NAHL team to play in a game.
Defenseman Michael Heitkamp, 19, was called up to the NAHL's Minnesota Wilderness this week and made his NAHL debut in a 2-1 overtime win on Wednesday. Heitkmap is the highest scoring defenseman on the Grizzlies so far in his first season. He has amassed nine points (five goals, four assists) in 11 games. Heitkamp scored the first hat trick by a Grizzlies defenseman in the Sep 20th game against Wausau.
In addition, defensemen Clayton Shultz is practicing with the Minnesota Wilderness; forward Devin Hays is with the Corpus Christi IceRays; defensemen Logan Olson and forwards Peyton Hart and Joey Fodstad are down route 90 with the Austin Bruins.
Shutlz, 18, is in his first season with the Rochester Grizzlies. The Eden Prairie, MN native has seven points (two goals, five assists) and has appeared in all 12 of the Grizzlies games. He is also a plus-10 on the season.
Hays, 19, is also in his first season with the Grizzlies. He was the team's first round pick in the 2019 North American 3 Hockey League draft. Hays played two games with the Chippewa Steel this season, as well. The Erie, CO native has been hot since joining the team with five points (three goals, two assists) in eight games with the Grizzlies.
Olson, 20, started the season with the Bruins and is now in his second season with the Grizzlies. The Rochester, MN native played in three games with the Bruins before being sent to the Grizzlies. Since coming back to Rochester, Olson has found a home on the top-pair defense unit with Heitkamp. Olson has six points (one goal, five assists) in eight games.
Hart, 18, was the first Grizzlies player to sign an NAHL tender when he did so last season with the Janesville Jets. The native of Delafield, WI is in his second season with the team and has been a big part of a potent offense for the Grizzlies. Hart has 15 points (five goals, 10 assists) in 12 games this season and has found a home on the top line with Garrett Smith and Matt DeRosa.
Fodstad, 19, is also in his second season and is the Grizzlies' leading goal scorer. Fodstad, hailing from Rogers, MN, has 12 goals on the season. That's seven more than the next closest players on the team (Hart, Heitkamp and Lucas Newman). He also has eight assists, good for a team-leading 20 points. Fodstad is already more than halfway to his goal total from last season of 20.