Saturday Scores: Chill heating up with wins
November 3, 2019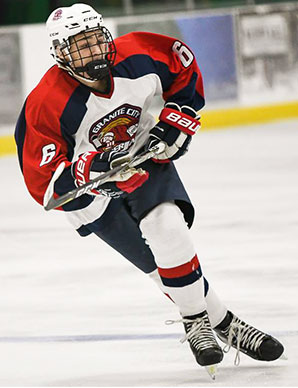 Peoria 3 @ Coulee Region 5 - The Chill and Mustangs traded goals for the full 60 minutes, but a pair from Christopher Drews helped Coulee Region just edge their opponents at home, 5-3, on Saturday night. Flavien Fondadouze, Sam VanderHoeven and Christopher Gilbert also found twine for the Chille, while Dillan Bentley netted a pair and Ian McHenry grabbed the other for Peoria. Michael Janke's 21 saves earned him the win in the Coulee Region net, outmatching Jaden Gardner's 21 stops for Peoria.
Elmira 0 @ L/A 8 - Jason St. Pierre made 30 saves and Connor Kennedy scored twice as the Nordiques blanked the Jr. Soaring Eagles for a second straight game, this time by a score of 8-0. Tyler Larsen, Joe Clark, Will Fletcher, Michael Keller, Bryce Leger and Sam Frechette lit the lamp in this one, as Elmira netminders Andrew Engel and Nick Konkel were forced into 47 combined saves.
Maine 4 @ NE Knights 6 - Leevi Kervinen scored twice and Steven Barry made 27 saves to help the Knights mount a late comeback and ultimately take a 6-4 win over the Wild on Saturday. Joining Kervinen on the Knights' scoresheet were Nolan Murphy, Jake Willis, Nicholas Ferrucci and Mitchell Shulman, while Jayden Werner (2), Kyle Wiswell and Matt Carson netted for Maine. Tom Spero turned aside 35 pucks in the loss.
Danbury 2 @ NE Stars 3 - Josh Boyd scored his second of the game at 5:19 of the second period to put the Stars ahead for good en route to a 3-2 win over the Colonials at home on Saturday. Henry Beguelin nabbed the other New England goal in front of 36 saves by Casey Johnson. Kolby Donovan and Kevin Remson potted Danbury's tallies, as Shane O'Brien saved 31 pucks for the Colonials.
Long Beach 5 @ Skylands 8 - A hat-trick from Sean Kenny, two goals from Thomas Mougin and 34 saves by Andrew Herms led the way for a determined Kings side, as they came back from 2-0 down to take an 8-5 over the Sharks in a see-saw affair. Trevor Souza, Dylan Dinzik and James Clarke rounded out the Skylands scoring, while Nathan Hartline and Zachary Ostrowski led Long Beach with pairs of their own, joining teammate Nicholas Garcia on the scoresheet. Daniel Sprague stopped 42 pucks in the Sharks' cage.
Louisiana 2 @ Atlanta 7 - The Capitals erupted for five goals in the final 26 minutes to break the deadlock and eventually knock off the Drillers 7-2. Kirill Nikulichev banged in a couple goals in the win, with Joey Allegrini, Gunner Moore, Andrei Rusakov, Christopher Walker and Cole Thomas Johnson chipping in as well. Blake Siewertsen created Louisiana's offense with both goals in the night in front of 42 saves from Gunnar Snyder. Patrick Egdorf took the win between the pipes with 40 saves for the Capitals.
Milwaukee 0 @ Rochester 8 - Mathias Backstrom stopped all 12 shots he faced and Hunter Wilmes posted a pair of goals and assists to help the Grizzlies shut the door on the Power in an 8-0 win on Saturday. Michael Heitkamp, Porter Haney, Jesper Hofling, Joey Fodstad, Matthew DeRosa and Zakary Justice provided all the offense in this one, as Rochester forced Milwaukee goalie Joey Greilich into a whopping 53 saves.
Willmar 3 @ New Ulm 5 - New Ulm needed four straight goals in the final 22 minutes and 25 saves from Jack Raymond, but they managed to edge out the Warhawks for a 5-3 win. Jack Parks, Brandon Swanson, Nate Looft, Stanislav Danaev and Joey Gimberlin helped pace the comeback victory, while Danny Klatt, Eli Slagter and Brandon Holt wound up with the Willmar marks. Luke Weberg saved 28 shots in the loss.
Wausau 0 @ Granite City 9 - The offense came early and often for the high-flying Lumberjacks on Saturday night, as Daymin Dodge bagged a hat-trick and Jonah Jangula struck twice to pace a 9-0 win for Granite City over Wausau. Tal Halliday, Troy Dahlheimer, Logan Stellmach and Sean Davidson potted the remaining Lumberjacks goals, as Bailey Huber posted a 19-save shutout. Joseph La Forge was busy in the RiverWolves' cage with 47 saves on the night.
Alexandria 2 @ North Iowa 3 (OT) - Lucas Wahlin's OT heroics saved the day after teammate Cam Fagerlee forced extra time, pushing the Bulls to a 3-2 win over the Blizzard after 65 minutes. Jac Triemert posted the other North Iowa marker, while Shane Birkeland and Brandon Connett put Alexandria on the board. Dysen Skinner won with 24 saves, while Ville Hyttinen was dealt a loss despite 32 stops of his own.
Helena 2 @ Sheridan 7 - Down 2-1 after 33 minutes, the Hawks rattled off six unanswered goals -- including two from Justin Schwartzmiller -- to take down the Bighorns 7-2 at home. Trevor Timm, Blake Billings, Kamden Sengheiser, Steven Delikat and Stepan Ruta fueled the Sheridan onslaught, as Dylan Ferreira bagged both Bighorns' goals. Zach Hearn made 26 saves for the win, while Rylan Labrie and Bailey Bradford stopped a total of 45 in the loss.
Yellowstone 2 @ Missoula 3 - Cayce Balk put the team on his back on Saturday, scoring both the first and last goals of the game to help the Bruins slip past the Quake by a 3-2 score. Mi-Kwan Tallman found twine for the second straight game for Missoula as well, while Jack Harris and Dylan Rumpke again lit the lamp for Yellowstone. Dylan Swanson made 18 saves for the Missoula win, while Michael Allman stopped 29 for the Quake.
Butte 6 @ Bozeman 13 - Hat-tricks for Duncan McGarrah and Luke Hartge, along with two from Hazen McKay and a 30-save night from Brandon Keeney and Conan Hayton helped the Icedogs take a 13-6 win on Saturday. Ty Stovin's hat-trick for Butte helped keep things somewhat interesting, but Bozeman markers from Mikhail Greeley, Max Schumacher, Zack Monaco, Will Kutch and Luke McKey sealed the win. Robin Bagley, Kyler Garsjo and Russell Park put Butte on the board, with Sean O'Connor and Johan Beekes making 65 combined saves for the Cobras.
Gillette 1 @ Great Falls 6 - Declan Young again put the Wild up by one early on, but again Gillette failed to keep its lead, as the Americans, led by Hendrik Robel's pair, blitzed them for a 6-1 win on Saturday. Kellen Harris, Jake Hayes, Blake Nerney and Tommy James propelled Great Falls' comeback bid on the night, with Viktor Wennberg backstopping the effort with 24 saves. Anthony Seykor suffered the tough-luck loss despite 43 saves for the Wild.