North Iowa forward Simon gets call to the NAHL
November 4, 2019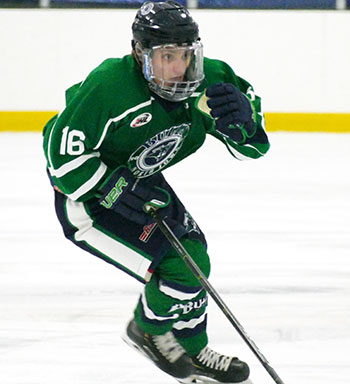 The North Iowa Bulls of the NA3HL are pleased to announce that forward
Zachary Simon
was called up to the Lone Star Brahmas of the North American Hockey League (NAHL) this past weekend. Simon becomes the second North Iowa player to be called up to the NAHL this season, following Dalton Saltness's call-up to the Bismarck Bobcats in September.
Simon joined the Brahmas on Sunday ahead of a home weekend against the Shreveport Mudbugs. Simon is still expected to return to Minnesota as the high school season officially kicks off on Monday, November 11.
"Knowing that he's going to get down there and practice, and show them what kind of player he is, we're certainly excited about that," said Sanden. "Zach's been great for us here in the 13 games that he's played for us."
Simon played before and after his high school season last year with the Bulls as well, appearing in 14 regular-season games and tallying four points. This season, Simon has stepped things up a notch, posting six goals and six assists over those 13 appearances. He started the season with eight points over the team's first four games, including the game-winning goal in a win over Peoria in September.
His high school resume is nothing short of impressive, either. Simon racked up 29 points in leading Orono High School to its first-ever Minnesota state title in 2018, and he was the Spartans' leading scorer as a junior last year with 49 points.
"I'm very excited for this great opportunity, and I'm looking forward to proving myself at the next level," said Simon. "The time with the Bulls has been rewarding on and off the ice, and I'm ready to take what I've learned to Lone Star."
"It's in transition right now, so we don't know if he's going to play games or not, but I would have some expectation that he's probably going to play a game or two with them," said Sanden. "Being a captain and a leader at Orono High School, we expect him to do a very good job there, too. We look forward to him coming back at the end of the season and hopefully jumping in late and picking up where he left off."
More than 30 Bulls players have gone on to appear in the NAHL, and eight of those players would later suit up for NCAA Division I teams.