Friday Finals: RiverWolves pick up big home win
November 9, 2019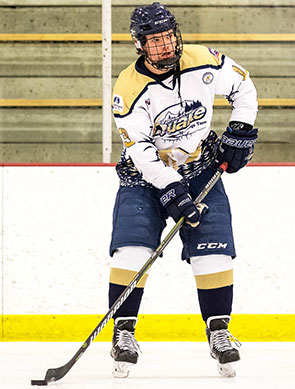 Milwaukee 3 @ Wausau 6 - A pair apiece from Kasey Couture and Mitchel Idalski fueled the Riverwolves and helped them stave off a late Power comeback bid to take a 6-3 win on Friday. Sam Baker and Blake Neudecker lit the lamp for the remaining Wausau goals, while Isaiah Hedberg, Nico Piehl and Harrison Beschta posted the Power strikes. Zack Piehl and Ty Barnhill combined for 28 Milwaukee saves, while Tyler Klatt took the win for Wausau with 22.
Butte 5 @ Yellowstone 6 - The Cobras managed to find two goals in the final frame, but fell just short as the Quake topped them 6-5. Dylan Rumpke's hat-trick highlighted a strong Yellowstone game, including another two goals by Cade Rosansky and a single from Tyler Cramer. Hudgel Selk made 38 saves for the Quake. Butte's Carsten Quam and Robin Bagley carried things on their side with two goals apiece, with Ty Stovin posting the other Cobras goal. Netminders Sean O'Connor and Casey Mattfeldt stopped a combined 24 pucks for Butte in the contest.
TX Roadrunners 2 @ Atlanta 5 - Reigning South Division Star of the Week Andrei Rusakov again stole the show with two goals and two assists to help guide the Capitals to a 5-2 win over the Roadrunners on Friday. Patrick Egdorf backstopped the win with 17 saves, as Kirill Nikulichev, Joey Allegrini and Matthew Macumber each hit the net as well for Atlanta. Brenden Fehlig and Garrett Wilderman netted for Texas, in front of 30 saves from Cole Garver.
Granite City 2 @ New Ulm 1 - Glavine Schugel scored for the Steel just 1:31 after the Lumberjacks made it 2-0 to get his team within a goal, but Granite City held on for the 2-1 win on the road. Josh Baker and Kearby Larson provided the offense for the visitors, as Nate Johnston made 18 saves for the victory. AJ Cohen suffered the loss in the Steel cage with 28 saves of his own.
Coulee Region 5 @ Breezy Point 2 - Jacob Best logged five points, Michael Janke made 25 saves and the Chill breezed past Breezy Point for a 5-2 win. Gijs De Schepper, Marco Escobar and Flavien Fondadouze found twine for Coulee Region, while James Curran and Alec Sorby put the North Stars on the board. Griffin Foster put in quite a shift for Breezy Point, stopping 46 pucks in the loss.
Rochester 2 @ North Iowa 8 - Seven different skaters hit the scoresheet as the Bulls erupted in an 8-2 win over the Grizzlies. Austin McNeil led with a pair, and was joined by Nico Aguilera, Mason Enright, Lucas Wahlin, Nick Bowlin, Cam Fagerlee and Jackson Vercellono on the North Iowa scoresheet in front of 20 Evan Babekuhl saves. Shane Soderwall faced down 21 pucks for Rochester, as Peyton Hart and Noel Parker bagged the goals for their team.
Alexandria 3 @ Willmar 4 (SO) - Brandon Holt provided the shootout heroics after a back-and-forth first 60 to help the Warhawks edge out the Blizzard for a 4-3 win at home. Eli Slagter, Josh Hoffman and Trent Sylvester propelled Willmar in regulation time, as Lukas Haugen made 36 saves and stopped all three Alexandria shooters in the shootout. Dallas Duckson, Carter Rieland and Michal Trejbal helped Alexandria force OT, with Bailey Rosch facing down 28 shots in regulation and OT.
Elmira 3 @ Skylands 1 - Thomas Held stood tall with 39 saves and Connor Berry scored twice as Elmira nabbed a pair in the final frame to outpace the Kings for a 3-1 win. Liam Murphy bagged the other goal for Elmira, while Thomas Hoffman posted Skylands' strike. Jacob King finished with 27 saves for Skylands.
Great Falls 4 @ Helena 0 - Viktor Wennberg's standout performances continued on Friday, as the Americans' netminder posted another shutout, this time making 29 saves to stymie the Bighorns. Dylan Olson potted a pair for Great Falls, joining Bryson Fletcher and Jake Hayes on the scoresheet. Meanwhile, Rylan Labrie posted a whopping 52 saves for Helena in the loss.
Gillette 3 @ Bozeman 5 - The Wild jumped out to a 2-0 advantage early, but five straight Icedogs markers helped them see out Gillette with a 5-3 victory on home ice to maintain their Frontier dominance. Brock Finn led Bozeman with two goals, as Domagoj Troha starred with 40 saves and Hazen McKay, Duncan McGarrah and Hayden Groth rounded out the scoring. Danny Ramos scored two for Gillette, and Declan Young added another, but their efforts along with Brad Muzarelli's strong 41-save effort just weren't enough for the win.
Missoula 2 @ Sheridan 6 - Justin Schwartzmiller's hot streak continued on Friday, as the forward bagged another hat-trick and Jonathan Teasdale potted a pair to help the Hawks down the Bruins 6-1. Alex Kesler netted the other Sheridan tally, with Jemes Downie backstopping things with 29 saves. Mi-Kwan Tallman and Zane Cluphf scored the Missoula goals in front of a staller 58 saves by Larkin Dolan.