Friday Finals: Wennberg, Americans continue hot streak
November 30, 2019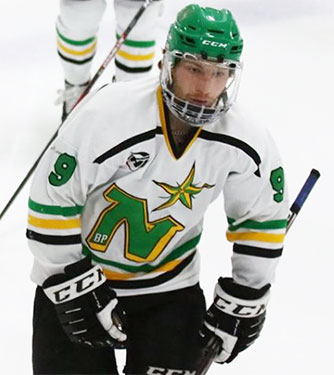 Missoula 0 @ Great Falls 5 - Yet another shutout stole headlines in the Frontier, as Great Falls held Missoula to a goose egg after Viktor Wennberg's 20 saves backstopped a 5-0 victory. Dylan Olson's two goals led the offense, with Jack Olson, Brody Boyce and Logan Rachow rounding out the goals. Larkin Dolan faced a busy night in the Bruins' cage, stopping 62 of 67 in the loss.
Breezy Point 8 @ Wausau 4 - There was no shortage of offense in Wausau on Friday, as Garrett Freeman led the North Stars to a big 8-4 road win thanks to his whopping four-goal performance. Jordan Linder also starred for Breezy Point, notching a pair of goals and four assists for six points. Kai Kingery and Laauli Tosi rounded out the North Stars' scoring, while Wausau was guided by Kasey Couture with a pair, as well as Mitchel Idalski and Connor Johnson with one goal apiece. Joseph La Forge was a force in the RiverWolves despite the scoreline, stopping 58 pucks, but fell short as Griffin Foster and Jacob Mitchell combined for 34 saves and the victory.
Louisiana 2 @ TX Brahmas 7 - Two-goal efforts from Cory Scull, Leevi Selanne and Benjamin Mondou guided the Brahmas to a 7-2 comeback victory on Friday. After Brandon Morgan and Grant Griffin put the Drillers up by a deuce early, Texas responded with seven unanswered goals, capped off by Matej Palfy as well. Bryce Runyan earned the win with 26 saves, while Daniel Sprague matched that save total on 31 shots in the loss.
Peoria 0 @ Rochester 2 - Mathias Backstrom stopped all 17 shots against and Peyton Hart struck early in the second to give Rochester all the offense it would need en route to a 2-0 victory over the Mustangs. Michael Heitkamp logged the other tally for the Grizzlies as Peoria netminder Jaden Gardner stopped 35 of 37 pucks.
New Ulm 3 @ North Iowa 6 - With a slender lead entering the final frame, Carter Wagner pushed the Bulls to victory with a pair of goals less than a minute apart in the third period, sealing the 6-3 win over the Steel. Sota Isogai, Matt Dahlseide, Justin Daly and Nick Bowlin also scored for North Iowa, while Michael Savelkoul, Jacob Halvorson and Keegan Bauman netted for New Ulm. Dysen Skinner and Evan Babekuhl combined for 16 saves and a win for North Iowa, while AJ Cohen turned aside 21 of 27 for the Steel.
Gillette 7 @ Helena 0 - The Wild couldn't have asked for a better performance on Friday -- Declan Young had a hat-trick, Tyler Kaminski posted a goal and four assists and Shane Phillips turned away everything in sight en route to a 7-0 shutout of the Bighorns. Caleb Sanborn, Easton Apodaca and Hunter Beckett also netted for the high-scoring Wild, as Helena netminder Bailey Bradford was forced into 31 saves.
Sheridan 0 @ Bozeman 5 - Conan Hayton stole the show between the Icedogs pipes, shutting down the potent Hawks' offense with a 49-save shutout as Bozeman flexed its muscle in the Frontier. Christian Veneruzzo, Hazen McKay, Luke McKay, Will Kutch and Andrew Bertolini provided the offense in this one, as the Icedogs peppered Zach Hearn and James Downie with 41 shots in the Sheridan cage.
Butte 3 @ Yellowstone 6 - Kyler Garsjo put in another impressive shift for the Cobras with two goals, but it was Will Yates on the double for the Quake to guide them to a 6-3 win on Friday. Dylan Rumpke, Jack Harris, Logan Brown and Spencer Platt also scored to push Yellowstone to the win, while Alexander Chronowski added another for Butte. Logan Cooksy's 32 saves proved enough for the win between the pipes, while Danny Fielding suffered the loss despite 45 stops of his own.