Saturday Scores: Bulls close out barn with weekend sweep
December 8, 2019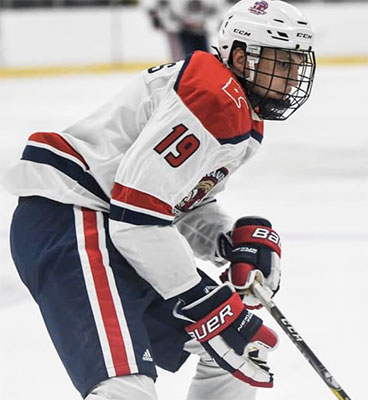 Alexandria 3 @ North Iowa 8 - Justin Daly's hat-trick, Ryan Hempel's pair and Evan Babekuhl's 20 saves highlighted a key win for the Bulls as they knocked off division rival Alexandria 8-3 on Saturday. The game and the win was the final one in the North Iowa Ice Arena. Nico Aguilera, Jordan Roo and Dalton Saltness also hit the goal column for North Iowa, while Derek Dropik nabbed a double and Austin McNeil netted as well for the Blizzard. Ville Hyttinen made 29 saves for Alexandria.
Breezy Point 2 @ Granite City 11 - The Granite City attack was again firing on all cylinders, led by Nicholas Richert, Bailey Sommers and Cody Dias with two goals apiece as they trounced the North Stars 11-2. Blake Spetz, Nathan Green, Nick Plautz, Jacob Shuldt and Tal Halliday also scored for Granite City, while Gunner Bourassa and Garrett Freeman nabbed Breezy Point goals. Bailey Huber made six saves on eight shots for the win, while Jacob Mitchell stopped 34 of 45 in the loss.
Elmira 1 @ Northeast 3 - Carson Asper's two goals led the Generals past the Jr. Soaring Eagles 3-1 on Saturday. John Driscoll made 28 saves as Tami Merilainen netted the other Northeast goal, while Nathan Hartline bagged the lone Elmira marker. Nick Konkel and Andrew Engel combined for 44 saves in the Eagles' cage.
NE Stars 3 @ NE Knights 4 - The Knights built up a 4-1 lead late in the second and held on from there, ultimately riding 38 saves from Zach Roncarati to a 4-3 decision over the New England Stars. Martin Dlugolinsky, Jake Willis, Kyle Madigan and Nolan Murphy lit the lamp for the Knights, while Derek Flynn, Michael Cooprider and Nick Byron found twine for the Stars. Cam Carpenter stopped 23 pucks in the Stars' loss.
Skylands 9 @ Long Beach 2 - The Kings offense hit its stride easily on Saturday, as Trevor Christopher led with a pair of goals en route to a 9-2 win over the Sharks. Joining Christopher on the scoresheet for Skylands were Trevor Souza, Jonathan Myers, Thomas Hoffman, Joseph Arnold, Jeremy Brassard, Dylan Dinzik and James Clarke in front of Andrew Herms in goal. Will Space and Nicholas Garcia combined for Long Beach's offense as Timothy Brillaud stood tall between the pipes.
Rochester 4 @ St. Louis 2 - Deadlocked at two apiece after two, Nic Leisen and Porter Haney gave the Grizzlies a late boost with a goal apiece to help their team knock off the Jr. Blues 4-2. Joey Fodstad and Zakary Justice potted the first-period goals for Rochester, while Mike Deeba and Joey Solimando put St. Louis on the board. Mathias Backstrom took the win with 32 saves, outmatching 26 from St. Louis goalie William Oliver.
TX Roadrunners 3 @ Mid Cities 4 (OT) - Zach Perez came through as the Stars' hero on Saturday, bagging the game-tying goal early in the third and the OT winner just over a minute into the extra frame to give Mid Cities the 4-3 win over the Roadrunners on Saturday. Petr Pokorny and Brenden Fehlig put Texas up early, but Payton Carter and RJ Muckensturm evened the affair midway through the second, before Logan Bellar added another for the Roadrunners late in the frame, setting up Perez's third-period/OT heroics. Noah Kinsinger made 36 stops for the win, while Cole Garver faced down 44 for Texas.
Maine 1 @ L/A 5 - Jason St. Pierre made 13 of 14 saves and five different skaters found twine to help the Nordiques to a 5-1 win over the Wild on Saturday. Joe Clark, Peyton Hughes, Trent Seager, Bryce Leger and Sam Frechette led the offense in this one, easily eclipsing Gavin Dempsey's lone goal for Maine. Tom Spero faced a busy night in the Wild cage with 62 saves on 66 shots.
Coulee Region 0 @ New Ulm 5 - AJ Cohen earned a 25-save shutout, Jack Parks posted two goals and a helper and the Steel cruised past the Chill 5-0. Michael Savelkoul, Stanislav Danaev and Jacob Halvorson rounded out the New Ulm attack, as Michael Janke made 31 saves for Coulee Region.
Peoria 3 @ Willmar 4 - Jake Santarelli bagged a double as the Warhawks built up a 4-0 lead, but the Mustangs roared back to make it a 4-3 game late before falling just short. Tony Briggs and Marquez Ginger helped flesh out the Willmar offense, while George Giese, Austin Keil and Connor Bennett fueled Peoria's comeback. Luke Weberg starred in the Willmar crease with 37 saves on the night, taking the win over a combined 29 stops from Jaden Gardner and Cole Walter of Peoria.
Atlanta 3 @ TX Brahmas 6 - After trading goals for just over 40 minutes, the Brahmas rode a three-goal outburst in the final 10 minutes to a 6-3 win over the Capitals on Saturday. Goals by Andrue Trelstad, Benjamin Mondou, Michael Thomas Jr., Leevi Selanne, Jack Cooper and Findlay Wood stole the show, as Bryce Runyan made 11 saves for Texas. Atlanta was fueled by Jake Piscarik, Kirill Nikulichev and Cole Thomas Johnson, and received 25 stops from Noah Ping in net.
Bozeman 5 @ Gillette 3 - Luke Hartge's third hat-trick of the season put the icing on another Icedogs win, this time 5-3 over the Wild. Hazen McKay and Tadeas Aulehla flanked with a goal apiece for Bozeman, as they outmatched Tyler Kaminski's pair and Declan Young's tally for Gillette. Domagoj Troha put in a solid shift with 42 saves in Bozeman's net, while Brad Muzzarelli made 35 stops for Gillette.
Sheridan 5 @ Helena 1 - The Hawks took the lead early and never looked back in this one, using a Trevor Timm double to breeze by the Bighorns 5-1. Kamden Sengheiser, McCaffrey Billings and Blake Billings also hit the twine for Sheridan, while Abraham Laggis put Helena on the board. James Downie's 26 saves took the win, while Aaron Campbell suffered a tough loss despite 49 saves between the Helena pipes.
Yellowstone 0 @ Great Falls 10 - A 20-save Trever Mellen shutout, four goals from Jack Olson and two from Bryson Fletcher headlined a banner evening for the Americans, as they crushed the Quake 10-0. Levi Mese, Nick Torres, Brody Boyce and Tommy Janes got in on the scoring fun as well, as Great Falls forced Yellowstone netminder Michael Allman into a whopping 60 saves.
Butte 2 @ Missoula 5 - A pair of Cayce Balk strikes bookended the night, as the Bruins outlasted the Cobras 5-2. Henry Morrison, Tyler Prince and Mi-Kwan Tallman each hit the scoresheet for Missoula between Balk's tallies, with Robin Bagley and Ty Stovin each netting for Butte as well. Seth Daniel's 39 saves took the win, while Danny Fielding turned aside 48 for the Cobras.