Sunday Wrap-Up: Brahmas widen gap atop South Division
December 9, 2019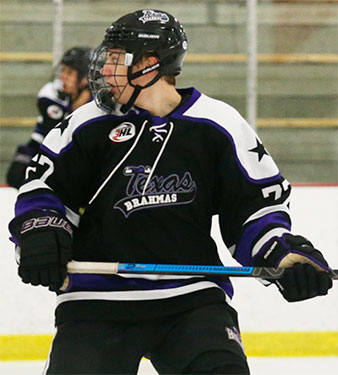 Atlanta 0 @ TX Brahmas 4 - Kayden Hargraves stood tall for a 31-save shutout as the Brahmas toppled the Capitals 4-0. The win was the fourth straight for the Brahams, as their lead over Atlanta atop the South Division reached nine points. Cal Couell, Danny Barry, Jack Cooper Michael Thomas Jr. drove the offense in this one, forcing Noah Ping and Patrick Egdorf of Atlanta into 28 saves.
Elmira 5 @ Long Beach 0 - Andrew Engel posted a shutout and five different skaters found twine as Elmira knocked off Long Beach 5-0. Lou DeCola, Ethan Fuller, Liam Murphy, Ian Skinner and Thomas Liebold provided the offense against Sharks' netminder Timothy Brillaud.
Skylands 0 @ Northeast 10 - A 16-save shutout from Raphael Gaughan combined with a Kolye Bankauskas hat-trick and doubles from Eyan Helm and Grigori Zemzer fueled a high-octane Generals squad to a 10-0 win over the Kings on Sunday. Ben Pizzimenti, Carson Asper and Nicholas Wracker also lit the lamp for Northeast, as Alex Allison made 38 saves for Skylands.
Rochester 2 @ St. Louis 3 - Evan Ross notched his eighth goal of the year 37 seconds into the final frame to help the Jr. Blues edge out the Grizzlies 3-2 to close out the weekend. After Clayton Dawe and Sean Hofstetter put St. Louis up early, Porter Haney and Matthew DeRosa responded for Rochester before Ross' third-period efforts. Brett Tome took the win with 23 saves between the Jr. Blues pipes, outmatching Sean Guerin's 20 stops for Rochester.
Peoria 8 @ Willmar 4 - Peoria's offense ran smoothly on Sunday, with eight skaters hitting the scoresheet en route to an 8-4 win over the Warhawks. Zachary Eddington, George Giese, Connor Henderson, Austin Keil, Dillan Bentley, Atticus Helfer, Quinton Murphy and Tristan Trudel put points on the board, as Josh Hoffman (2), Danny Klatt and Tony Brings helped Willmar mount something of a comeback bid. Cole Walter made 25 saves for the win, while Luc Haggitt and Gunnar Banks combined for 30 Willmar stops.
L/A 7 @ Maine 1 - Will Fletcher, Michael Keller and Nick Pomerleau stole the show with two goals apiece as the Nordiques cruised past the Wild 7-1. Sam Frechette also scored for L/A, as Will Hays made 19 saves in the win. Mark Tisdal posted Maine's goal and Olivier Marceau put up 44 stops in the loss.
TX RoadRunners 6 @ Mid Cities 4 - The two teams traded goals for much of the game, but Trevor Borlace's pair of strikes and Cole Garver's 42 saves proved enough to give the RoadRunners a 6-4 win over the Stars on Sunday. Brenden Fehlig, Matthew McBride, Garrett Wilderman and Jakub Kovacka also scored for Texas, while RJ Muckensturm led Mid Cities with two, joining Zach Perez and Hunter Leonhard on the scoresheet. Kenton Kim made 31 saves for the Stars.