North Iowa forward Fagerlee makes NCAA commitment
December 12, 2019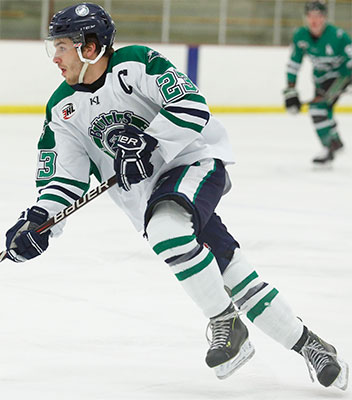 The North Iowa Bulls, proud members of the North American 3 Hockey League, are pleased to announce that forward and captain
Cam Fagerlee
has committed to play NCAA Division III hockey for the University of Wisconsin-Stout for the 2020-21 season. The Blue Devils are members of NCAA Division III and the Wisconsin Intercollegiate Athletic Conference (WIAC).
North Iowa Bulls forward Cam Fagerlee's experience and skills would make him a valuable prospect for any college hockey team. The third-year Bulls standout has already played 109 games for Todd Sanden's team, and is currently on track to play more games for North Iowa than anyone but team legend Matt Kroska. His scoring numbers are impressive as well, ranking in the top four of almost every major scoring category for the Bulls.
He'll head to a program where the North Iowa Bulls' name and reputation are already familiar, joining longtime North Iowa teammate Peter Verstegen and one-time Bulls goalie Brady Meyers on the Blue Devils' roster.
"With him coming back for a third season, we were very confident that he was going to have opportunities to make some choices regarding where he was going to be a college hockey player," said Bulls head coach Todd Sanden. "The fact that he narrowed it down so quickly, we're excited for him. Obviously, we feel like he's very comfortable in attending Wisconsin-Stout, and we have a strong history of players attending there."
UW-Stout head coach Terry Watkins and the Blue Devils' name are well-known in the North Iowa locker room as well, with Fagerlee becoming the 13th Bulls player to make the move to Menomonie. UW-Stout enters the coming weekend with a record of 2-7-1, ahead of a home-and-home set with Wisconsin-River Falls before the Christmas break.
Fagerlee says several other schools showed interest in him, but Wisconsin-Stout's academics helped to put them over the top.
"They've got a couple of good majors that I'm interested in - I haven't made a decision yet, but they have a couple that I'm really interested in," said Fagerlee. "I like the coaches, too - they have the same style that (Coaches) Sanden and Hicks have, and there's a lot of experience in the room."
Almost 140 former North Iowa players have advanced to college hockey programs in the team's nine years on the ice, with more than 70 making their commitments while with the Bulls. That number includes eight Bulls alumni who have suited up at the NCAA Division I level. Last season, 16 Bulls players and alumni made their college decisions.