December 13, 2019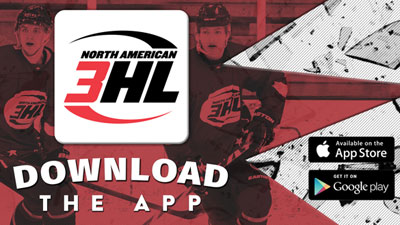 It is the most exciting weekend to date for the NA3HL as this weekend all 34 NA3HL teams head to Blaine, Minnesota for the 2019 NA3HL Showcase.
For more details on the 2019 NA3HL Showcase, including ticket, hotel, rental car, scouting and schedule information, visit:
na3hl.com/showcase
.
All NA3HL teams will play three regular-season games at the Showcase, which is annually one of the most well-attended and scouted events of the entire season for the league, attracting college and junior scouts alike. The NA3HL Showcase brings every NA3HL team under one roof, which allows scouts to see all the great talent the league has to offer. Not only does the showcase see a large presence of NCAA scouts but NAHL Central Scouting is also in attendance, furthering the chances for players to earn a call up to the NAHL.
There are six NA3HL games on Friday night, which will be followed by a travel day on Saturday as all teams head to Blaine. The action for the NA3HL Showcase begins at 1:15pm (central) on Sunday, December 15th.
This week was another good one for NA3HL players as three more players were called up to the North American Hockey League and another made an NCAA commitment.
Follow the games on the NA3HL App:
FRI, DECEMBER 13
North Iowa at Rochester - 7:00 PM CST
Granite City at Alexandria - 7:10 PM CST
Breezy Point at New Ulm - 7:10 PM CST
Maine at New England Knights - 8:30 PM EST
Peoria at Wausau - 7:30 PM CST
Sheridan at Gillette - 7:05 PM MST
SUN, DECEMBER 15
Louisiana at L/A - 1:15 PM CST
Mid Cities at New England Knights - 1:15 PM CST
Texas Brahmas at Northeast - 1:15 PM CST
Atlanta at New England Stars - 1:30 PM CST
Elmira at Rochester - 1:30 PM CST
Skylands at Gillette - 4:00 PM CST
Bozeman at North Iowa - 4:00 PM CST
Yellowstone at Wausau - 4:00 PM CST
Danbury at Coulee Region - 4:15 PM CST
Great Falls at Granite City - 4:15 PM CST
St. Louis at Alexandria - 6:45 PM CST
Sheridan at New Ulm - 6:45 PM CST
Helena at Breezy Point - 7:00 PM CST
Texas RoadRunners at Maine - 7:00 PM CST
Long Beach at Peoria - 7:15 PM CST
Missoula at Willmar - 7:15 PM CST
Butte at Milwaukee - 7:30 PM CST
MON, DECEMBER 16
Skylands at Yellowstone - 10:00 AM CST
Coulee Region at New England Stars - 10:30 AM CST
Texas Brahmas at North Iowa - 10:30 AM CST
Breezy Point at Butte - 12:00 PM CST
Louisiana at Danbury - 12:00 PM CST
Texas RoadRunners at Helena - 12:00 PM CST
Mid Cities at Wausau - 12:30 PM CST
Maine at Milwaukee - 12:45 PM CST
Rochester at Bozeman - 1:15 PM CST
Long Beach at Missoula - 1:15 PM CST
New England Knights at Willmar - 1:30 PM CST
Peoria at Gillette - 2:45 PM CST
Sheridan at St. Louis - 4:00 PM CST
Northeast at Granite City - 5:30 PM CST
L/A at New Ulm - 6:00 PM CST
Great Falls at Alexandria - 6:35 PM CST
Atlanta at Elmira - 6:45 PM CST
TUE, DECEMBER 17
Butte at Long Beach - 9:00 AM CST
St. Louis at Louisiana - 9:00 AM CST
Peoria at Mid Cities - 9:00 AM CST
Gillette at New England Knights - 9:00 AM CST
Maine at Yellowstone - 9:00 AM CST
Northeast at Bozeman - 9:30 AM CST
Breezy Point at Skylands - 9:30 AM CST
Rochester at Texas Brahmas - 9:30 AM CST
Alexandria at Atlanta - 11:45 AM CST
L/A at Great Falls - 11:45 AM CST
New England Stars at Sheridan - 11:45 AM CST
Milwaukee at Texas RoadRunners - 11:45 AM CST
New Ulm at Danbury - 12:15 PM CST
North Iowa at Elmira - 12:15 PM CST
Willmar at Helena - 12:15 PM CST
Wausau at Missoula - 12:15 PM CST
Granite City at Coulee Region - 2:30 PM CST