Americans take over Frontier lead with New Year's Eve win
January 1, 2020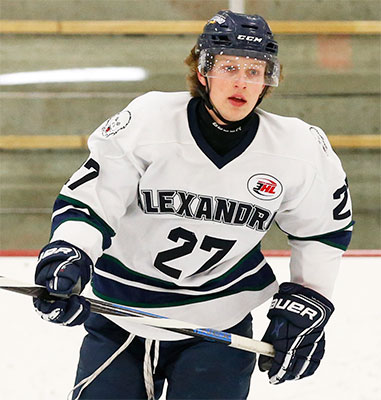 Great Falls 1 @ Helena 0 - Brody Boyce's late first-period tally proved to be enough for the win, as Viktor Wennberg faced down 20 of 20 pucks in a 1-0 Americans win over the Bighorns. Rylan Labrie stopped 41 shots for Helena in the loss.
Breezy Point 2 @ Alexandria 12 - Brandon Connett potted a hat-trick and Conner Busse, Nolan Westra and Derek Dropik each struck twice as the Blizzard steamrolled the North Stars 12-2. Cole Jacobs, Austin McNeil and Ike Taraszewski rounded out the Alexandria scoring, while Garrett Freeman and Brandan Premo netted for Breezy Point. Bailey Rosch's 21 saves locked up the Blizzard win, while Jake Sumner and Griffin Foster posted a shared 67 saves in the Breezy Point net.
Bozeman 3 @ Yellowstone 4 (SO) - Dylan Rumpke's shootout heroics gave the Quake a much-needed 4-3 upset win over the Icedogs on Tuesday. After Will Kutch and Luke Hartge put Bozeman up by two early, Rumpke struck back for Yellowstone, before Tadeas Aulehla restored the Icedogs' two-goal lead. Tyler Cramer and Will Yates then found twine over the final 40 minutes to help the Quake to an eventual shootout win. Michael Allman starred between the Yellowstone pipes with 51 saves, while Domagoj Troha stopped 27 for Bozeman.
Gillette 3 @ Sheridan 4 - After a pair of Stepan Ruta strikes and a three-goal comeback, the Hawks managed to edge out the Wild 4-3. Alex Kesler and Blake Billings also found twine for Sheridan, while Keedin Denny, Austin Newson and Declan Young provided the Gillette offense. James Downie recorded the 23-save victory, while Brad Muzzarelli stopped 37 in the loss.
Wausau 0 @ Rochester 10 - Hunter Wilmes scored twice, Mathias Backstrom stopped all 19 shots against and the Grizzlies cruised past the RiverWolves 10-0 on Tuesday. Paul Hofbauer, Michael Heitkamp, Andrejs Bogdanovs, Lucas Newman, Ethan Noonan, Noel Parker, Cody Reagle and Nic Leisen also logged goals in Rochester's rout. Tyler Klatt and Joseph La Forge combined for 61 saves in the Wausau net.
Butte 2 @ Missoula 5 - Tyler Prince's pair of goals led the way as the Bruins rattled off three unanswered in the final 12 minutes of play en route to a 5-2 win over the Cobras. Mi-Kwan Tallman, Connor Frye and Trevor Prince also hit the scoresheet for Missoula, while Ty Stovin bagged both Butte markers. Seth Daniel earned the win with 41 saves, outdueling Danny Fielding with 38 stops for Butte.
Granite City 6 @ Willmar 2 - A hot start fueled by two Carson Simon goals and 24 Nate Johnston saves helped the Lumberjacks past the Warhawks 6-2. Jacob Schuldt, Cameron Lantz, Jonah Jangula and Blake Spetz also scored for Granite City, outmatching Willmar goals from Tony Brings and Jake Fain. Lukas Haugen stopped 53 for the Warhawks.