Saturday Scores: Jr. Blues extend winning streak to eight
January 5, 2020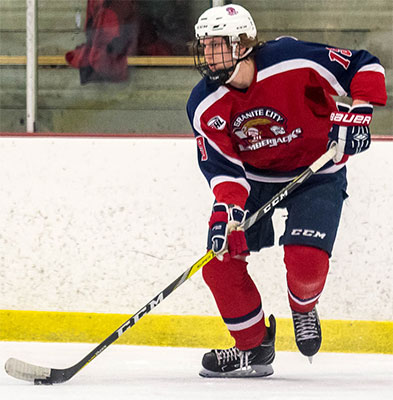 St. Louis 6 @ Wausau 1 - Sean Hofstetter's double and Brett Tome's 29 saves helped the Jr. Blues skate a little easier en route to a 6-1 win over the RiverWolves on Saturday. Joey Solimando, Evan Ross, Van Kraemer and Jake Stevenson also scored for St. Louis, while Ian Raddatz posted Wausau's lone tally. Tyler Klatt stopped 45 shots in the RiverWolves' cage.
Alexandria 0 @ Granite City 4 - Bailey Sommers' hat-trick and Nate Johnston's 26-save stalwart shutout effort highlighted a high-flying Lumberjacks win over the Blizzard, 4-0, at home. Nicholas Richert notched the other goal as Alexandria's Ville Hyttinen made 36 saves.
Rochester 0 @ North Iowa 4 - As West Division rival Granite City logged a Saturday night shutout, so too did North Iowa, riding 33 saves on 33 shots from Evan Babekuhl to a 4-0 decision over the Grizzlies. Jordan Roo, Sota Isogai, Sean Sullivan and Nico Aguilera provided the offense in this one, as Mathias Backstrom stopped 19 pucks for Rochester.
Great Falls 5 @ Gillette 3 - The Wild held a 2-1 advantage heading into the third period, but three goals in 9:19 saw the Americans blitz past for a 5-3 road victory on Saturday. Harley Nyhuis led with a pair of goals, Nick Torres followed with three assists and Bryson Fletcher, Nick Ramstad and Jake Hayes rounded things off with individual markers for Great Falls, while Declan Young paced Gillette's attack with a couple goals of his own. Austin Newson lit the lamp as well for the Wild as Shane Phillips turned aside 38 shots in goal.
Yellowstone 2 @ Helena 4 - The Bighorns jumped out to a 3-0 advantage and never looked back, riding 20 Kevin Tauntman stops in goal to a 4-2 win over the Quake. Christopher Fritz, Porter Tirrill, Johnny Baird and Andrew Deskin lit the lamp for Helena, while Dylan Rumpke and Cade Rosansky helped Yellowstone mount a comeback in front of 42 stops from Logan Cooksy, but fell just short.
Sheridan 5 @ Missoula 1 - The Hawks held a narrow lead after 20, but Anthony Fortin's two-goal night and Luke Fundator's 14 saves helped them past the Bruins by a 5-1 score. Peyton Kesselhon, Jack Royer and Blake Billings also scored for Sheridan, outmatching Cayce Balk's lone strike for Missoula. Dylan Swanson made 31 stops for the Bruins in the loss.
Butte 4 @ Bozeman 11 - The Icedogs again flexed their muscles, as 10 different skaters found twine to help their team knock off the Cobras 11-4. Will Kutch led with two goals as the only multi-goal scorer of the game as Domagoj Troha made 27 saves. Luke McKay, Duncan McGarrah, Jack Greeley, Tadeas Aulehla, Caden Duggan, Cooper Welsh, Tae Evans, Hazen McKay and Luke Hartge also scored for Bozeman. Alexander Chronowski, Nick Bradshaw, Robin Bagley and Joe Erickson put Butte on the board, with Danny Fielding and Aiden Waal combining for 59 saves in net.
NE Knights 4 @ Elmira 5 - John Kosa's second of the game late in the third proved to be the difference as Elmira knocked off the Knights 5-4 on Saturday. Thomas Liebold, Liam Murphy and William Darling also found twine for Elmira in front of an impressive 57 saves by Andrew Engel. Jake Willis starred ofr New England with two on the night, joining Max Burum and Nolan Murphy on the scoresheet as Zach Roncarati faced down 46 pucks in their net.
Maine 5 @ Danbury 3 - The Colonials struck twice in the final frame to cut a 4-1 deficit to a single goal, but Gavin Dempsey's second-period strike served as the game-winner and Ryoto Inukai's empty-net insurance marker sealed the deal to help the Wild take a 5-3 decision on the road. Luke Church, Regan Wintle and Kadin Mason rounded out the Maine attack, while Maverik Skeans, Nate Mastrony and Dylan Webber fueled Danbury's comeback. Keenan Gamache made 49 saves in the win, outpacing Shane O'Brien's 27 at the other end.
NE Stars 2 @ Northeast 8 - Jeffrey Sidoit and Nicholas Wracker each bagged a pair to highlight an 8-2 win for the Generals over the Stars. Ryan Reifler, Stephen Gerbis, Samuel Rychvalsky and Ian Kuntz also scored for Northeast, as Justin Simmons made 30 saves in goal. Nick Byron and Derek Flynn notched New England's goals in front of Nathan Hadley's 39 saves.
Long Beach 0 @ Skylands 8 - Two goals apiece from Joseph Arnold and Jonathan Meyers and a 13-save shutout from Jacob King led the way as the Kings cruised past the Sharks 8-0. Richard Prazan made a whopping 45 saves for Long Beach, but the Kings were too much as Trevor Christopher, James Clarke, Khole Hibbert and Thomas Hoffman each lit the lamp in Skylands' win.
Louisiana 4 @ TX RoadRunners 2 - Ivan Matveev stole the show with a pair of goals, including the game-winner, to help the Drillers avenge Friday's loss with a 4-2 win over the RoadRunners. Shamil Khadizhalov and Jacob Cummings each scored as well to round out Louisiana's offense, while Logan Bellar and Michael Krupniski netted for Texas. Daniel Sprague put up a wall in the Louisiana net with 43 saves, and Jaeger Reed showed out well for the RoadRunners with 44 of his own.
Coulee Region 1 @ Peoria 4 - Dillan Bentley logged two goals and Cole Walter made 22 saves to help the Mustangs past the Chill 4-1. Tyler Bihun and Jared Wisely also hit twine for Peoria. Meanwhile, Parker Severson bagged Coulee Region's lone marker and Devin Naidow stopped 24 shots between the Chill pipes.
Breezy Point 1 @ New Ulm 9 - Jacob Halvorson, Stanislav Danaev and Michael Savelkoul each scored twice, Mason Enright put on a clinic with a stunning five assists and Jack Raymond made 15 of 16 saves to piece together a strong Steel win, 9-1 over the North Stars. Joining the fun on the scoresheet for New Ulm were Denis Denisov, Parker Dorn and Jack Parks with goals, while Garrett Freeman nabbed the only goal for Breezy Point. Jacob Mitchell and Jake Sumner combined for 68 saves in the loss.