Jr. Bruins name Etem as new Head Coach for 2020-21 season
February 5, 2020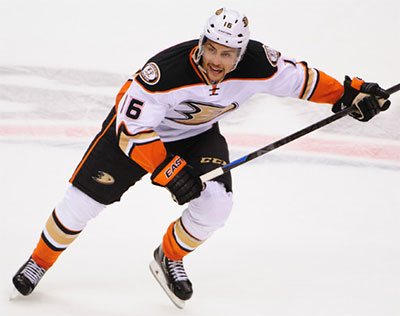 The Missoula Jr Bruins of the NA3HL are proud to announce the hiring of NHL veteran and former 1st round draft pick Emerson Etem as the third Head Coach and General Manager in franchise history.
"We are very excited to have Emerson become a part of the Missoula Jr Bruins family," said team owners Jason and Liz DiMatteo. "There are so many things that excite us about Emerson. He has an obvious love for the game and a deep passion for teaching. He is not just going to be a great asset for our team, but for the Missoula hockey community at large. He understands the importance of the team being a positive influence in the community and will ensure that Missoulians everywhere know who the Bruins are what we are about."
Current Head Coach and General Manager Cliff Cook has accepted a position with a collegiate program (to be announced in the coming weeks) beginning in the 2020-2021 season but will finish the 2019-2020 season as the Bruins continue to make a run to the NA3HL playoffs.
Etem, who retired after the 2018-19 season due to a nagging knee injury, brings eight years of pro hockey experience to Missoula. He was drafted in the first round (29th overall) by the Anaheim Ducks in the 2010 NHL draft. He played in 173 games in the NHL over parts of five seasons with the Ducks, New York Rangers, and the Vancouver Canucks. He is currently a coach with the South Alberta Hockey Academy with his former NHL and WHL coach, Willie Desjardins.
"I would first like to thank Jason and Liz DiMatteo, Cliff Cook and Mike Anderson for giving me this special opportunity. Any great coach in hockey has received a shot from someone, and mine comes from those four individuals," said Etem. "I've spent close to 20,000 on-ice hours over the last 18 months working with various age groups including players in the AHL, NCAA, and AJHL. I think the game at a way higher level than even in my NHL days and look forward to passing off this knowledge to these young men."
Etem has played at high levels throughout his entire career. In 2007, Etem joined the renowned Shattuck-St. Mary's program, and helped the Sabres win their second consecutive USA Hockey TI 17U National Championship. That same season he was drafted 115th overall by the Medicine Hat Tigers in the 2007 WHL Bantam Draft. Etem then played a season with the U.S. National Development Team Program as a member of the U17 team. He would go on to represent Team USA in the U17 U-17 World Hockey Challenge, and in back-to-back World Junior Championships, including being named Associate Captain in 2011-12.
After one year with the USNDTP, Etem joined the Medicine Hat Tigers of WHL. In his rookie season, he led all rookies in goal scoring. In his three seasons with Tigers, Etem amassed 296 points in 236 regular season and playoff games, including a 120-point season in his final year with the team.
Etem's first full year of professional hockey was in 2012-13 where he split time with the Anaheim Ducks and Norfolk Admirals of the AHL. In a pre-season game versus the San Jose Sharks, Etem was badly injured from a knee-on-knee collision prior to the 2013-14 regular season. He was able to continue playing, but things were never quite the same. After three years with the Ducks organization, Etem was traded to the New York Rangers in the summer of 2015 for Carl Hagelin and draft picks that went both ways. After 19 games, the Rangers traded him to Vancouver. Etem found a role with the Canucks and finished the year with 12 points in 39 games.
After not making the roster with Vancouver before the 2016-17 season, Etem ended up back with the Ducks organization. He was only able to get in four games that year between the Ducks and their AHL affiliate, the San Diego Gulls. The next two years, he played sparingly as well splitting time between the AHL and the NLA before retiring after the 2018-19 season.
Upon retirement, Etem got right into coaching reuniting with his former NHL and WHL coach Willie Desjardins at the South Alberta Hockey Academy. Etem wants the Bruins to play a style that he feels is essential to win in today's game: "we're going to be a puck possession team. How you in win today's game is by outcompeting and out-playmaking the other team." Off the ice, Etem wants all of Missoula to know and be proud of the Jr Bruins: "we're going to get out in the community and create an atmosphere at Glacier Ice Rink that will be unmatched."
Etem is from Long Beach, California. His mother, Patricia, is a former US Olympic team rower who was unable to participate in the 1980 games due to the boycott. Emerson's older brother, Martin, rowed at Syracuse University, and his older sister, Elise, was a swimmer and rower at California-Berkley. Etem has a son and daughter with his wife Danette. Their son, Laulo, is 3 years old, and their daughter, Alaïa, is 7 months. The couple married in June 2016.