February 14, 2020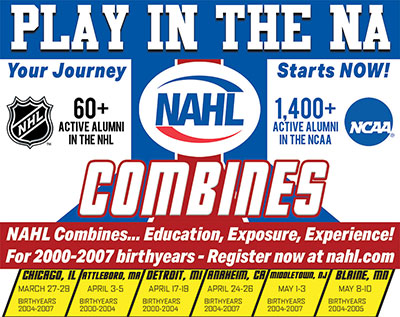 The NA3HL gets underway with a jam-packed weekend of 32 games on Friday through Sunday.
Just a couple weekends of games remain until the end of the regular season and there are still Fraser Cup Playoff spots to be had. Division titles are also up for grabs in five of the six divisions.
After the games on Saturday and Sunday, 108 NA3HL players will head to Attlboro, Massachusetts, to play in the 2020 NA3HL Top Prospects Tournament.
The NA3HL Top Prospects Tournament is played in conjunction with the NAHL Top Prospects Tournament. The event is one of the most highly-scouted events of its kind, with hundreds of junior, NCAA and NHL again expected in attendance this season.
FRI, FEBRUARY 14
Mid Cities at Atlanta - 7:00 PM EST
Texas Brahmas at Texas RoadRunners - 6:15 PM CST
Granite City at Alexandria - 7:10 PM CST
St. Louis at North Iowa - 7:30 PM CST
Milwaukee at Wausau - 7:30 PM CST
Breezy Point at Willmar - 7:30 PM CST
Bozeman at Gillette - 7:05 PM MST
Sheridan at Helena - 7:05 PM MST
Missoula at Butte - 7:30 PM MST
Great Falls at Yellowstone - 7:30 PM MST
Skylands at Elmira - 9:50 PM EST
SAT, FEBRUARY 15
Long Beach at Danbury - 3:30 PM EST
Elmira at Skylands - 6:30 PM EST
Mid Cities at Atlanta - 7:00 PM EST
New England Knights at L/A - 7:00 PM EST
Texas Brahmas at Texas RoadRunners - 6:15 PM CST
Northeast at Maine - 7:30 PM EST
Milwaukee at Peoria - 6:45 PM CST
Rochester at Coulee Region - 7:00 PM CST
New Ulm at Granite City - 7:30 PM CST
St. Louis at North Iowa - 7:30 PM CST
Breezy Point at Willmar - 7:30 PM CST
Bozeman at Gillette - 7:05 PM MST
Sheridan at Helena - 7:05 PM MST
Butte at Missoula - 7:05 PM MST
Great Falls at Yellowstone - 7:30 PM MST
SUN, FEBRUARY 16
Elmira at Skylands - 12:00 PM EST
Mid Cities at Atlanta - 12:30 PM EST
Northeast at New England Stars - 1:45 PM EST
New England Knights at L/A - 2:00 PM EST
Milwaukee at Peoria - 1:15 PM CST
Long Beach at Danbury - 3:30 PM EST