February 21, 2020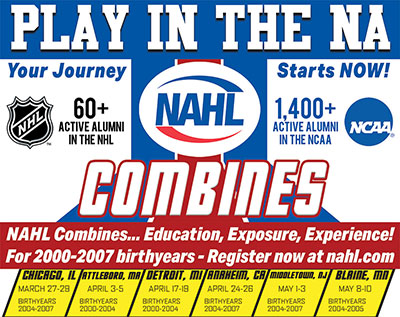 After another successful NA3HL Top Prospects Tournament earlier this week, which has already seen the NCAA commitments of two players from the event, the NA3HL gets back into regular action this weekend with just three weekends to go before the end of the regular season.
Five of the six division titles are still up for grabs this weekend as are more Fraser Cup Playoff spots.
Eyes this weekend will be on the Central Division to see if Rochester can lock up the regular season title and the Frontier Division, where more teams look to qualify for the Fraser Cup Playoffs. In all, 27 games are on the schedule from Friday through Sunday.
FRI, FEBRUARY 21
Louisiana at Atlanta - 7:00 PM EST
Coulee Region at Rochester - 7:00 PM CST
Milwaukee at Alexandria - 7:10 PM CST
Willmar at New Ulm - 7:10 PM CST
Granite City at Breezy Point - 7:30 PM CST
Northeast at Skylands - 8:30 PM EST
Mid Cities at Texas Brahmas - 7:45 PM CST
Helena at Butte - 7:05 PM MST
Great Falls at Missoula - 7:05 PM MST
Yellowstone at Bozeman - 7:30 PM MST
Gillette at Sheridan - 7:30 PM MST
SAT, FEBRUARY 22
Northeast at Skylands - 2:10 PM EST
New England Knights at L/A - 3:30 PM EST
Maine at New England Stars - 3:50 PM EST
Danbury at Long Beach - 4:45 PM EST
Louisiana at Atlanta - 7:00 PM EST
Willmar at Peoria - 6:45 PM CST
Milwaukee at Alexandria - 7:10 PM CST
Yellowstone at Sheridan - 7:00 PM MST
Bozeman at Great Falls - 7:30 PM MST
Helena at Missoula - 7:30 PM MST
SUN, FEBRUARY 23
Northeast at L/A - 10:30 AM EST
Skylands at Long Beach - 11:45 AM EST
Louisiana at Atlanta - 12:30 PM EST
Wausau at Coulee Region - 12:00 PM CST
Willmar at Peoria - 1:15 PM CST
Mid Cities at Texas Brahmas - 4:05 PM CST