Bulls regain West lead with shutout win on Tuesday
February 26, 2020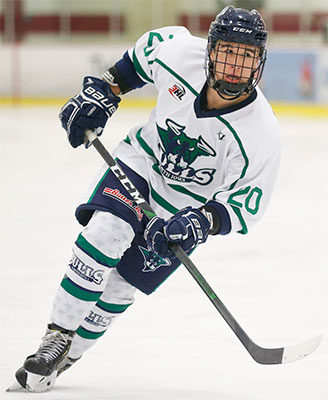 North Iowa 9 @ Willmar 0 - An onslaught in the 1st period and a five-goal outburst in the second powered the Bulls to a 9-0 win over the WarHawks on Tuesday night. With the win, the Bulls moved back into sole possession of 1st place in the West Division.
The Bulls went ahead 2-0 in the 1st period with Justin Daly scoring at 13:37 of the first period for a 1-0 lead and Matt Dahlseide scoring late in the period to make it 2-0.
The Bulls then blew the game wide open in the 2nd period with five goals. Carter Eha poked one past Lukas Haugen at the 1:15 mark of the second period to make it a 3-0 game, and Lucas Wahlin shoved one in at the 3:06 mark for a 4-0 lead. Cam Fagerlee then added a power play goal for a 5-0 advantage. The lead jumped to 7-0 in quick fashion with just over three minutes left in the period – Fagerlee fed the puck across the slot to Carter Wagner to bury a 2-on-0 chance with 3:39 left in the second, and Fagerlee snuck another one under the crossbar just 31 seconds later to extend the lead.
In the 3rd period, Daly left an extra drop pass at the middle of the slot for Wahlin to snap a wide-open shot past relief goaltender Luke Weberg at the 8:04 mark of the third to make it 8-0. Daly himself finished the scoring barely five minutes later, leaning into a wrist shot and cranking it over Weberg's right shoulder with 6:50 remaining.
Evan Babekuhl finished off his fifth shutout of the season for his 13th win, making 22 saves. Haugen exited the game after making 35 saves on 42 North Iowa shots, while Weberg went 12-for-14 in net behind Haugen.