February 28, 2020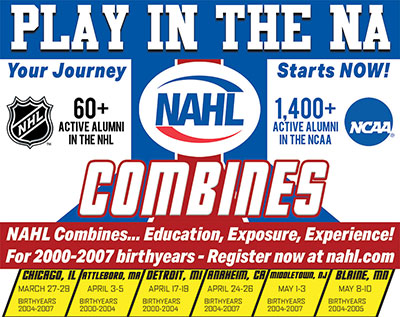 Just two weeks remain until the conclusion of an exciting 2019-20 NA3HL regular season and the playoff picture is rounding into shape.
Three of the six division champions have yet to be decided and the final playoff spots are still up for grabs in the Coastal, Frontier, South, and West Divisions.
The Frontier Division will conclude regular season play this weekend, followed by the rest of the divisions next weekend. The Fraser Cup Playoffs begin next weekend in the Frontier Division and on March 12th in the rest of the divisions.
It has been quite the week for the NA3HL, which has not only seen two more players sign NAHL tenders, but three current former players make NCAA Division 1 commitments.
FRI, FEBRUARY 28
Texas Brahmas at Texas RoadRunners - 6:15 PM CST
Atlanta at Mid Cities - 7:00 PM CST
Granite City at St. Louis - 7:00 PM CST
New Ulm at Alexandria - 7:10 PM CST
Peoria at North Iowa - 7:30 PM CST
Danbury at Skylands - 8:30 PM EST
Coulee Region at Wausau - 7:30 PM CST
Breezy Point at Milwaukee - 8:00 PM CST
Butte at Helena - 7:05 PM MST
Great Falls at Missoula - 7:05 PM MST
Sheridan at Bozeman - 7:30 PM MST
Gillette at Yellowstone - 7:30 PM MST
SAT, FEBRUARY 29
Granite City at St. Louis - 1:00 PM CST
New England Knights at New England Stars - 3:50 PM EST
Atlanta at Mid Cities - 5:30 PM CST
Texas Brahmas at Texas RoadRunners - 6:15 PM CST
Alexandria at New Ulm - 7:10 PM CST
Peoria at North Iowa - 7:30 PM CST
Rochester at Wausau - 7:30 PM CST
Long Beach at Danbury - 9:00 PM EST
Breezy Point at Milwaukee - 8:00 PM CST
Great Falls at Butte - 7:05 PM MST
Helena at Missoula - 7:05 PM MST
Sheridan at Bozeman - 7:30 PM MST
Gillette at Yellowstone - 7:30 PM MST
SUN, MARCH 1
Elmira at Skylands - 12:00 PM EST
Rochester at Coulee Region - 12:00 PM CST
Wausau at Milwaukee - 4:00 PM CST
New England Stars at Northeast - 5:30 PM EST
Long Beach at Danbury - 6:20 PM EST
New Ulm at Alexandria - 5:30 PM CST
Texas Brahmas at Texas RoadRunners - 5:30 PM CST
Willmar at North Iowa - 6:30 PM CST
Atlanta at Mid Cities - 7:30 PM CST