March 6, 2020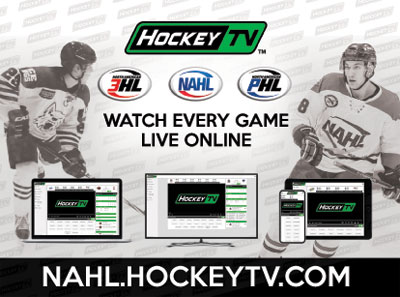 This weekend in the NA3HL is full of excitement with the regular season concluding and the Frontier Division Playoffs getting underway.
On Thursday night, the 2020 NA3HL Fraser Cup Playoffs got underway in the Frontier Division Quarter-Finals as Yellowstone beat Gillette in Game 1, 4-1.
There are still a few things to be decided. First, the Northeast Division still needs to crown its regular season champion and it is a close race between the Skylands Kings and the Elmira Jr. Soaring Eagles.
In the Coastal Division, the final playoff spot will be a race to the finish line between the New England Knights and Maine Wild.
The defending Fraser Cup Champion Texas Brahmas and the Northeast Generals are also battling for the NA3HL's best record and regular season title.
It was another great week for NA3HL players with several signing NAHL tenders and others making college commitments.
FRI, MARCH 6
Louisiana at Texas RoadRunners - 6:15 PM CST
St. Louis at Rochester - 7:00 PM CST
Coulee Region at Alexandria - 7:10 PM CST
North Iowa at Granite City - 7:30 PM CST
Danbury at Long Beach - 8:30 PM EST
New England Stars at New England Knights - 8:30 PM EST
Skylands at Northeast - 8:30 PM EST
Wausau at Willmar - 7:30 PM CST
Mid Cities at Texas Brahmas - 7:45 PM CST
Game 1: Helena at Great Falls - 7:30 PM MST
Game 2: Gillette at Yellowstone - 7:30 PM MST
SAT, MARCH 7
Elmira at Danbury - 3:20 PM EST
New England Knights at New England Stars - 3:50 PM EST
Louisiana at Texas RoadRunners - 6:15 PM CST
Skylands at Maine - 7:30 PM EST
New Ulm at Peoria - 6:45 PM CST
St. Louis at Rochester - 7:00 PM CST
Coulee Region at Alexandria - 7:10 PM CST
North Iowa at Granite City - 7:30 PM CST
Texas Brahmas at Mid Cities - 7:30 PM CST
Wausau at Willmar - 7:30 PM CST
Game 2: Great Falls at Helena - 7:05 PM MST
Game 3: Gillette at Yellowstone - 7:30 PM MST*
SUN, MARCH 8
Elmira at Danbury - 1:30 PM EST
Skylands at Maine - 1:30 PM EST
New Ulm at Peoria - 1:15 PM CST
Rochester at Alexandria - 3:00 PM CST
L/A at Northeast - 5:00 PM EST
Game 3: Helena at Great Falls - 4:30 PM MST*
Mid Cities at Texas RoadRunners - 5:30 PM CST
*If necessary