50 Players, 50 Days: Noah Kingsinger
May 15, 2020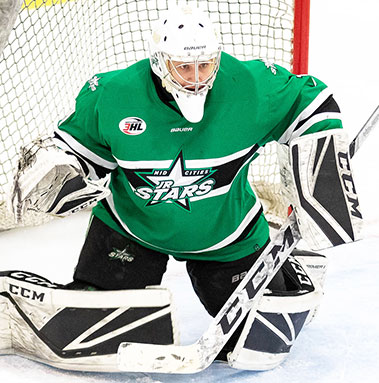 During the current and unforeseen cancelation of the 2019-20 season, the players in the NA3HL saw their seasons cut prematurely short. In some cases, players saw their junior hockey careers come to an end as well. However, the NA3HL got together a decided to highlight some of those players, who were born in 1999 and were in their final season of playing junior hockey.
As a result, we present a new series entitled: 50 players, 50 days
50 players in 50 days will select 50 players from each of the 34 NAHL teams this past season that were born in 1999, who are currently uncommitted, and deserve some recognition during their time spent playing and developing in the NA3HL. Over the course of the next 50 days, we will take time out to look at their accomplishments, review their season, and provide some background on their NA3HL careers. Players will be initially highlighted in alphabetical order by team. Enjoy!
Noah Kingsinger, Goaltender, Mid Cities Jr. Stars
Noah Kinsinger was as reliable as they come during his two seasons in Mid Cities, as he shared time in the crease with multiple other netminders yet remained consistent in his play to help backstop his team to consecutive playoff appearances in the competitive South Division.
Kinsinger's rookie season in 2018-19 saw him appear in 23 games, earning credit for 10 wins and notching two shutouts with a .890 save percentage and 3.49 GAA. He made two playoff appearances in 2019, and though he did not record a win, his performances were above par, as he stopped 82 of 88 shots for a .932 save percentage in those two games. Carrying the positive momentum from his standout playoff debut,
Watch: Noah Kingsinger highlights
Kinsinger pushed his season long save percentage up to .907 in 2019-20, appearing in 22 games and picking up nine wins along the way. And despite splitting time with different goaltending partners during his two seasons in the NA3HL, Kinsinger remained consistent, helping the Jr. Stars into the playoffs once again in 2019-20. He closes out his Junior career with a .899 save percentage, 3.63 GAA, two shutouts and a 19-21-1 record between the pipes.
Kinsinger joined the Jr. Stars from the Tri-State Spartans U18 program, where he was a goaltender for the 2017-18 season.