Peoria Mustangs announce ownership change
August 4, 2020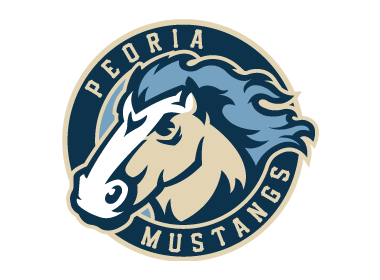 Eight years ago, Mustangs owner Paul Wayvon was fortunate to have the opportunity to put together a transaction to acquire the majority shareholding position in the Peoria Mustangs Junior Hockey Club. This averted a move of the Mustangs franchise to Wisconsin for the 2012-13 season. Wayvon became the Mustangs' president and Jean Guy Trudel and Steve Ortman agreed to stay on as minority shareholders. And so, the journey began.
Over the next 8 seasons the Mustangs recruited, trained, developed, and advanced hundreds of great young men to play for the Mustangs and become lifelong members of our "Mustangs Hockey Family". Our players came from "around the corner" and from across North America. And with the tremendous support and effort of our parents, billet parents, sponsors, fans, and volunteers the "Mustangs Family" grew ever stronger.
Since the 2012-13 season, the Mustangs had 8 consecutive winning seasons and qualified for the playoffs every year. Its season record totaled 216 wins – 137 losses – 25 ties for a total winning percentage of .604. Wayvon commended all our Head Coaches (Jean Guy Trudel, Steve Ortman, Tyler Rennette and Dave Karpa), assistant coaches, and trainer (Greg Eberle) for their contribution to this tremendous result.
During the first season under Wayvon's ownership, the Mustangs played in the NA3HL, a league with 17 teams in the Midwest. The NA3HL has grown dramatically over the past 8 seasons and now has 34 teams from across the USA. Of the original 17 teams, only 4 other teams remain from the 2012-13 season… St Louis Jr. Blues, North Iowa Bulls, Granite City Lumberjacks and Alexandria Blizzard. Some very select company. The Mustangs inaugural season was 2000-01… which will make the upcoming 2020-21 season the 21st.
"I have cherished and enjoyed every minute of being the majority owner and president of the Mustangs for the past 8 seasons. However, it is now time for a change. Rose and I see more of our future in Windsor (ON) and Cape Breton (NS). And Guy and Steve have agreed to increase their roles and ownership interests in the team. Guy will become the Mustangs next President and Steve will continue as the teams Head Coach/General Manager. And I have fully divested my ownership interest in the Mustangs," said Wayvon. "This incredible journey would not have been remotely possible for me without Rose. Rose was always there for support, guidance, effort, and love. As well, Rose effectively welcomed every fan at every home game over 8 seasons as well as spending hundreds of hours "behind the scenes" supporting the Mustangs (billet coordinator, painting the center ice logo…)."
Wayvon continued, "Finally, Rose and I thank everyone that we have met along the way for your kindness, friendship and help. It was a blast. You will all be fondly remembered. All the best in the future to the entire Mustangs Family… and hope to see you at the rink soon!"