September 17, 2020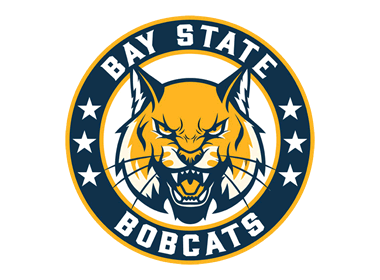 The 3View series will feature an in-depth look into all NA3HL teams in preparation for the 2020-21 season, with two teams being highlighted daily, leading all the way up until the start of the regular season. 3View goes in-depth into each NA3HL team and will include interviews with all the head coaches in the NA3HL, as they provide fans with their expectations and outlook for the 2020-21 season, including taking a look at their potential roster and their strengths as a team for the upcoming season. It will also take a look back on the 2019-20 season and how each team fared and what they accomplished. Best of all, 3View will provide the fans of the NA3HL with an inside look at their favorite team and what to expect.
Bay State Bobcats (formerly Elmira Jr. Soaring Eagles)
2019-20 Record: 22-22-3, 47 pts (3rd in the Northeast Division)
2020 Playoffs: Qualified
Head Coach: Anthony Langevin
2020-21 Division: East
Following one season in Elmira, NY, the newly-named Bay State Bobcats head to Holyoke, MA looking to carry on a history of success.
The Bobcats won the Northeast Division each year from 2016-19 as the Binghamton Jr. Senators, but suffered a down year by their standards in 2019-20, finishing third in the Northeast.
Assistant Coach Trevor Simonson chalks up the dip in play to an excess of defensively-minded hockey — something that worked in parts of the game, but hurt their efficiency in the offensive zone.
"Last year I think we were heavily focused on defense and that took away from some of our explosion in transition. We were defensively sound, taking away lanes with good sticks, keeping players wide and blocking shots; But that comfort was a façade, it weakened our aggression. This season we'll work on creating a more dynamic team in transition and mold some of our young talent into well rounded players who can provide offense along with their good defensive instincts," he said.
Watch: Bay State Bobcats season preview
Now, in the newly-formed East Division, Simonson is ready to return that championship pedigree to his team.
"A successful campaign for our team would be rising our compete level back to the top tier caliber of this league," he said, "Leading the division, winning the division, having a chance at a trip to Chicago; Those are our team goals for the season."
Bay State looks to lean on some veteran talent to guide their offensive renaissance, as JayVon Fogelgren and John Kosa return to the team as key scorers.
Simonson also added plenty of fresh faces to rejuvenate his team, including former Skylands Kings forward Tommy Hoffman, and some younger players like Caden Hart of Bellows Free Academy in Vermont and net minder Nathan Moffit from the Rochester Monarchs of the NCDC.
Those new Bobcats will have plenty of roles to fill, as Simonson and his staff have worked tirelessly to advance players across the last few years, with many becoming impact players throughout the NAHL and NCAA.
"Our focus is consistently the development of our players. Whether it's on the ice, off the ice, in the film room or in the community, being able to excel in all of the aforementioned environments displays the commitment level required for the NAHL and NCAA. Our players' daily resources are that of a morning film session, an hour of on ice skill acquisition broken down by positions, game video prep during the ice cut and back on for a hour and a half of team systems and competitions," he said.
"Over the last two season we've had Zac Bell AP with the Jamestown Rebels, Marcus Cook tender with the Wilkes Barre Knights, Dinmukhamed Dzhangarashev drafted to the Johnstown Tomahawks and this season Ian Skinner has made it to New Mexico's training camp in October."
This kind of successful player development doesn't just happen overnight, though — it takes a full commitment throughout the organization to give players the best chance to showcase their skills."As a program, we work to put our players in the best opportunities to be scouted for the NAHL and NCAA level, it's a staff requirement to get those deserving of the chance the ability to be seen. Developing players and helping them move on to higher levels of hockey, along with learning to be a team and utilizing one another to win competitions would be a success," said Simonson.
And of course, moving to a new home rink means developing new relationships with fans and the local community — something certainly made more difficult by the ongoing pandemic, but still important to the Bobcats organization.
"As community engagement continues to be a developing situation, our goal is to do like all the other hockey teams do, engage with the local organizations to encourage local kids to love the game. Also we'd like to be outside in the community doing fundraisers for all sorts of causes," said Simonson.
"We'll continue to find more opportunities as we make Holyoke our home."
Next up: Bozeman Icedogs