Sunday Wrap-Up: Capitals, Americans stay perfect with wins
October 26, 2020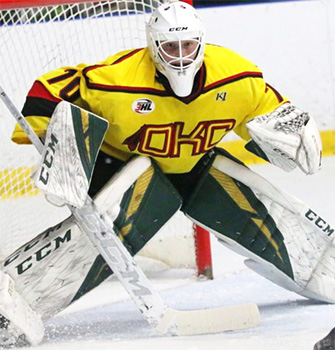 Atlanta 5 @ TX RoadRunners 4 (OT) – Kirill Nikulichev scored twice and Nicholas Cyprian had two goals and an assist, including the overtime-winning goal as the Capitals stayed perfect on the season with a 5-4 overtime win in College Station on Sunday, completing a three-game sweep. Nikulichev got the scoring started in the 1st period, but that was answered by three straight goals from the RoadRunners including tallies from Ethan Sodoma, Jacob Norwood, and Seth Payson. Capitals goals from Cyprian and Eddie Slack late in the 2nd period tied the game at 3-3. Nikulichev added his second of the game early in the 3rd period, which was answered by Anthony Lautz to send the game to OT. Greg Smith made 36 saves in the win, while Hunter Hein made 43 saves in the loss.
Mid Cities 4 @ Louisiana 0 – Stars goalie Nahuel Veyan posted the first shutout of his NA3HL career, stopping all 46 shots that came his way as Mid Cities salvaged a win in their three-game series in Louisiana with a 4-0 win on Sunday. The Stars opened the scoring with a 1st period goal from Tanner Daly. Stamos Giatrkis added a 2nd period goal and Michael Fatta and Aaron Best added goals in the 3rd period. Drillers goalie Jacob King made 24 saves in the loss.
Oklahoma City 4 @ TX Brahmas 1 – Oklahoma City goalie Jacob Ahl made 34 saves to lead the Blazers to a 4-1 win on Sunday in Texas, completing a weekend road sweep of the Brahmas. The two teams traded goals in the 1st period with Ian Erdman opening the scoring for the Brahmas and Tristan Warr answering back for the Blazers. In the 2nd period, the Blazers took a 2-1 lead on a power play goal from Noah Henslee. In the 3rd period, Noah Roitman and Thomas Srsha added empty-net goals to secure the win. Brahmas goalie Dolan Gilbert made 12 saves in the loss.
Missoula 2 @ Great Falls 4 – Americans goalie Trever Mellen made 42 saves and forward Jake Hayes assisted on all four goals as the Americans stayed perfect on the season with a 4-2 win over the Jr. Bruins. The Americans got a 1st period goal from Bryson Fletcher, a 2nd period power play goal from Blake Nerney, and two goals in the 3rd period from Alex Jackson and Harley Nyhuis. Missoula goals came from Kieran Christianson and Pablo Frank. Maxim Currie made 29 saves in the loss for Missoula.