Friday Finals: Stars, Veyan spoil Rhinos debut with shootout win
November 7, 2020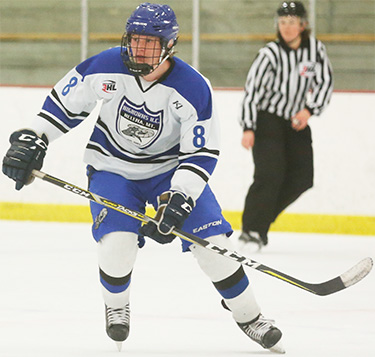 El Paso 1 @ Mid Cities 2 (SO) - Nahuel Veyan was the story of this tilt, turning aside an eye-popping 60 out of 61 shots against to help the Stars spoil the Rhinos' league debut in a 2-1 shootout victory. El Paso's Nolan Conrad and Mid Cities' Corbin Lamber each lit the lamp in regulation time, while Lamber and teammate Michael Fatta were the only players to score in the shootout. Veyan stopped both El Paso shooters. Rhinos goaltender Jordan Belley was strong in his own right, stopping 18 of 19 shots in 65 minutes, but fell just short of the win.
Helena 5 @ Gillette 4 (OT) - Down by a goal late in the game, the Bighorns forced OT on the back of Gavyn Galloway's goal with just 17 seconds left, then won the tilt 5-4 over Gillette thanks to Andrew MacCallum's heroics in the extra frame. Alex Bailey's two goals led the way during 60 minutes for Helena, who also received a goal from Corbin Skinner. Tristan Baker paced Gillette with a pair of his own, joining Carter Merritt and Isaac Young on the scoresheet. Kevin Taunton was stellar for the Bighorns in this one, stopping 42 shots for the win, while Cole Wheaton of Gillette turned aside a respectable 28 in defeat.
Bay State 2 @ Danbury 4 - Down by one early in the second, the Jr. Hat Tricks rattled off three unanswered markers for a 4-2 win over the Bobcats on Friday. Cole Madzey, Kyle Madigan, Dylan Webber and Wesley Westendorf provided the offense for Danbury, while Jake Ruchala and Troy Harwell put Bay State on the board. Nathan Hadley stopped 18 pucks for the win, outmatching a very busy Zack Roncarati, who stopped 37 for Bay State.
Northeast 7 @ New Jersey 3 - Two goals apiece from Ben Pizzimenti and James Clarke helped the Generals bag a 7-3 win over the Titans on Friday afternoon. Payton Felix, Deacon More and Matthew Coe also scored for the Generals in front of a 16-save effort from Espen Reager in goal. Philippe Doucette, Isaiah McKinney and Eyan Gonzalvez-Helm provided New Jersey's offense, with Dimitrii Kapranov turning aside 30 shots in the loss.
Peoria 5 @ Milwaukee 3 - The Mustangs relied on a huge four-goal third period to get past the Power by a 5-3 margin on Friday. Rickey Jones put Peoria up early in this one, but three straight Milwaukee strikes from Teddy Marion, Trey Bess and Garrett Alton in the middle frame gave the hosts a lead entering the third. But Connor Bennett, Reid Lune and George Giese added to a second Jones goal in the third period as the Mustangs stormed back for the win on the road. Cole Walter was instrumental in keeping Peoria in the game, stopping 33 of 36 shots, while Cole Shane did all he could for Milwaukee with a stunning 49 saves on 54 shots on the night.
TX Brahmas 5 @ TX RoadRunners 1 - Despite Derek Boutin giving the RoadRunners the lead early in this one, the Brahmas' pedigree once again shone through as they cruised to a 5-1 win on Friday. Michael Dalaly, Jacob Kalandyk, Jack Cooper, Blake Rothstein and Mason Mara fueled the Brahmas' resurgence in front of 39 Jaxon Taylor saves for the win. Hunter Hein faced down 47 of 52 shots in the RoadRunners' loss.
Oregon 2 @ Rochester 5 - Five different skaters found twine for the Grizzlies, as they oulasted the Tradesmen for a 5-2 win at home on Friday. Hunter Wilmes, Cole Gibson, Micah Gernander, Justin Wright and Tommy Gordon scored for Rochester, while Carter Stobb and Parker Severson punched in goals for Oregon. Shane Soderwall's 19 saves earned him the win, while Hunter Adams fell just short with 35 saves in the Oregon net.
Willmar 3 @ North Iowa 6 - A confident Bulls team rode two Carter Newpower goals and 20 saves from Evan Babekuhl to a 6-3 win over the Warhawks on Friday. Carson Jones, Lucas Jorgenson, Jack Campion and Kyle Heffron rounded out the North Iowa scoring, while Michael Sweetland, Louis Anders and Jordan Fjosne put Willmar on the board. Cooper Olson stopped 33 shots in the loss.
Atlanta 2 @ Oklahoma City 5 - The Capitals raced out to a 2-0 advantage early in this one, but the Blazers weathered the storm and roared back to take a 5-2 win at home on Friday. Some starring performances fueled the Blazers' win, as Noah Roitman (4a), Artem Korolev (1g,3a), Noah Henslee (2a) and Michael Onda (1g) complemented a standout effort by Patrick Wyers, who bagged a hat-trick and a helper. Dylan Slater and Gunnar Moore put Atlanta on the board. Between the pipes, it was a battle of two top netminders in the South. Jacob Ahl came out on top with 32 saves on the night, while Atlanta's Greg Smith turned aside 24 of 29 in the loss.
Sheridan 8 @ Butte 1 - Butte goaltender Joey Wilson was remarkable in this contest, stopping a stunning 99 of 107 shots against, but the high-flying Hawks still eased past the Cobras for an 8-1 win on Friday. Jacob Cummings and Zach Brydges nabbed a pair apiece for Sheridan, Justin Schwartzmiller, Zach Carson, Blake Billings and Dakota Kott rounded out Sheridan's attack and Antonio Tarantino stopped 24 of 25 shots for the win. Kyler Garsjo accounted for the lone Butte goal in front of Wilson's herculean effort between the pipes.
Missoula 11 @ Yellowstone 1 - Owen Miley recorded a hat-trick, Maxim Currie was stellar with 61 saves on 62 shots and nine different Bruins got on the board in a comfortable 11-1 win over the Quake on Friday. Kyle Knoles, Austin Franck, Kieran Christianson, Mike Abrego, Mi-Kwan Tallman, Trevor Prince, Pablo Frank and Liam Bland fleshed out a potent Missoula attack, while Cade Rosansky got the Quake on the board. Yellowstone goaltenders Hudgel Selk and Connor Carroll combined for 31 saves on the night.