Capitals finish series with big win against RoadRunners
January 25, 2021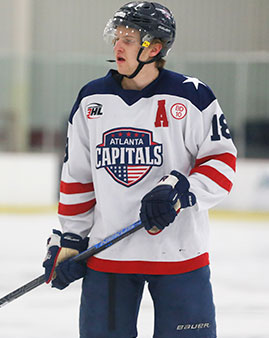 TX RoadRunners 2 @ Atlanta 11 – Three different players had two goals apiece and Eddie Slack had a four-point game as the Capitals completed their three-game weekend series against the RoadRunners with an 11-2 win on Monday.
The game was decided early as Atlanta jumped out to a 4-0 lead in the 1st period, which included a goal from Slack and others from Andrew Raburn, Yevgeni Govorushko, and Kirill Nikulichev.
The Capitals kept the pressure on in the 2nd period, scoring four more goals with tallies from Dylan Slater, Gunner Moore, Nick Cyprian, and another from Govorushko. Jaron Ketterman had the lone RoadRunners goal in the period to make it an 8-1 score after two periods.
In the 3rd period, the Capitals added three more goals, including the second of the contest for both Nikulichev and Cyprian and the 11th and final goal from Nikita Pecheritcyn. Nick Lucas had the other goal for the RoadRunners.
Joe Pearson made 26 saves in the win, while Christian Wong-Ramos allowed six goals on 25 shots and Jaxon Taylor allowed five goals on 17 shots in the loss.