Tradesmen, WarHawks play spoilers on Wednesday
March 25, 2021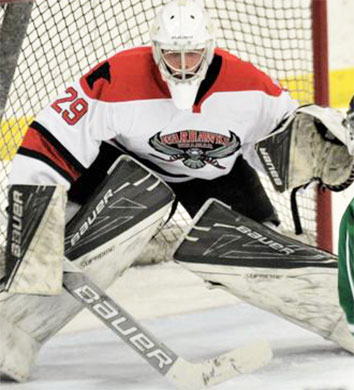 Peoria 0 @ Oregon 2 – Trademen goalie Cole Garver and his team played the role of spoiler on Wednesday as they shutout Peoria during the Mustangs regular season finale, 2-0. Garver made a season-high 56 saves in the win, which was his first shutout of the season. Oregon got on the board midway through the 2nd period as Henry Slager scored what was the eventual game-winning goal. Devin Hays added a goal late in the 3rd period for insurance. Mustangs goalie Cole Walter made 30 saves in the losing effort.
Willmar 3 @ Granite City 1 – The WarHawks put a big dent in the Lumberjacks' title hopes as Lukas Haugen made 43 saves in a 3-1 win on Wednesday. Things were tied at 1-1 after one period as Cole Wigestand opened the scoring for Willmar, which was answer by a power play goal from Ben Anderson of Granite City. The WarHawks took a 2-1 lead early in the 2nd period on a goal from Ethan Mock. Isaiah Thomas would add an empty-net goal late in the 3rd period to secure the win. Lumberjacks goalie Bailey Huber made 25 saves in the loss.
New Ulm 4 @ Alexandria 5 – Cole Klingbeil scored twice to lead the Blizzard to a 5-4 win on Wednesday, keeping Alexandria's hopes alive for the #3 seed in the West. The Blizzard jumped out to a 2-0 lead with 1st period goals from Wesley Johnson and Sean Kenny. New Ulm responded with two goals in the 2nd period from Ryler Schelle and Noah Rauschenberger to tie the game at 2-2. IN the 3rd period Klingbeil scored twice and Dallas Duckson also added a goal to give Alexandria the win. Rauschenberger had another goal for the Steel and Jake Saver also scored. Alexandria goalie Joey Greilich made 32 saves in the win, while AJ Cohen made 35 saves in the loss.
Titans 2 @ Jr. Hat Tricks 4 – In a playoff preview, the Jr. Hat Tricks took a step closer to locking in the #2 seed in the East with a 4-2 win over the Titans. Danbury led 1-0 thanks to a goal just :11 seconds into the game by Misha Mshar. The Titans had an answer later in the period as Brandon Avezov and Zachary Cafaro both scored to put the Titans ahead 2-1 after one period. Danbury knotted the game at 2-2 in the 2nd period thanks to a goal from Jake Oldham. In the 3rd period, the Jr. Hat Tricks took their first lead with just over four minutes remaining in regulation on a goal from Nick Cullinan. Cole Madzey added an empty-net goal. Trey Hirschfield made 24 saves in the win, while Ethan Kavanaugh made 48 saves in the loss.