Brahmas forward Blanchard makes NCAA commitment
May 5, 2021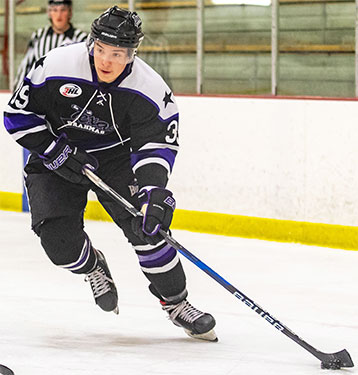 The Texas Brahmas of the NA3HL are pleased to announce that forward Tyler Blanchard has committed to play NCAA Division III hockey at King's College in Wilkes-Barre, Pa.
"I'm honored to announce that I will be continuing my education and playing NCAA hockey at King's College," said Blanchard. "I'd like to thank all of my friends, family, teammates, and coaches for all that they have done for me throughout this journey. I'd also like to give a huge thanks to Ryan Anderson and all he's done over the last three years. He's given me an indescribable amount of life and hockey advice, and it was a great privilege to play my junior career under him. I'm excited for the next four years. Go Monarchs!"
A three-season veteran and alternate captain of the Texas Brahmas, Tyler Blanchard amassed 200 (81 goals, 119 assists) points during his career in the NA3HL. The skater has a +165 rating, averages 1.64 points per game, and was consistently one of the top-scorers on the squad and in the league overall.
Blanchard played in both the 2019 NA3HL Top Prospects Tournament for the South Division, in addition to playing on the NA3HL 18U team at the 2019 NAHL 18U Top Prospects Tournament.
During the Fraser Cup Championship run in 2020-21, Blanchard recorded eight points (4 goals, 4 assists) in eight games. In the 2020-21 regular season, Blanchard totaled 75 points (26 goals, 49 assists), ranking him first on the Brahmas in goals scored, points and assists. A native of San Jose, Calif., Blanchard is a product of the San Jose Jr. Sharks organization, recording 171 points on the 16 and 18U levels.
"We are incredibly proud and excited for Tyler and his family with the announcement of his commitment to King's College," said head coach of the Texas Brahmas, Ryan Anderson. "He has been a key component to our success since he arrived in 2018-2019. It has been an absolute pleasure watching him grow on and off the ice. I will forever be grateful for what he has done for the Texas Brahmas program. King's College is getting a 200-foot player that can play in all situations and brings a winning attitude to its program. I look forward to watching Blanch have success in the classroom and on the ice. I know that when Blanch has finished his career at King's that they will struggle to replace him just like we will here in Brahmaland."
"For the King's Coaching staff, we genuinely believe Tyler's commitment is a pivotal moment for our hockey program," said head coach of the King's College men's hockey program, Tom Seravalli. "To commit one former Fraser champion is fantastic, but to get two is the cherry on top! When Tyler told us he was coming to King's, we were beyond excited to have another Brahma join our hockey family. We believe that Tyler is a program-changing caliber player and he will make an immediate impact for us as we move into the next chapter of developing our program. When we got the great news, we already knew we had the perfect linemate for him to compliment his game (current teammate and fellow King's commit Jack Cooper). Tyler is a smart, hard-nosed, transformative, prolific goal scorer which has led him to the top of the league in points this season. It's rare to find a player with the natural ability to score and we believe Tyler is that piece to the puzzle for us. As for off the ice, Tyler is outgoing, respectful, bright, and a loyal individual who possesses all the intangibles that we look for in a recruit. We have no doubt that Tyler will continue to show strong character and work ethic here at King's, the same attributes that led coach RA and the Brahmas to announce him as their alternate captain this season. We value everything Tyler brings to the table and we can't wait to have him on the ice with us next season!"
Blanchard joins the ranks of three other Brahmas to make college commitments this season: Leevi Selänne (Curry College) and Ian Erdman (Saint Mary's) and Jack Cooper (King's College). King's College, located in Wilkes-Barre, Pa., plays in the Middle Atlantic Conference.
Click here for an NA3HL college commitment list