3View: Alexandria Blizzard
August 19, 2021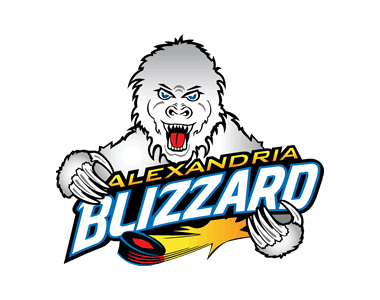 The 3View series will feature an in-depth look into all NA3HL teams in preparation for the 2021-22 season, with two teams being highlighted daily, leading all the way up until the start of the regular season. 3View goes in-depth into each NA3HL team and will include interviews with all the head coaches in the NA3HL, as they provide fans with their expectations and outlook for the 2021-22 season, including taking a look at their potential roster and their strengths as a team for the upcoming season. It will also take a look back on the 2020-21 season and how each team fared and what they accomplished. Best of all, 3View will provide the fans of the NA3HL with an inside look at their favorite team and what to expect.
Alexandria Blizzard
2020-21 Record: 17-20-3, 37 pts (4th in the West Division)
2021 Playoffs: Lost in Division Semi-Finals
Head Coach: Jeff Crouse
2021-22 Division: West
The 2020-21 campaign once again saw the Alexandria Blizzard in the thick of a very competitive division, earning a playoff bid before falling to a team with plenty of Fraser Cup pedigree.
Alexandria's exit at the hands of the North Iowa Bulls marked its fifth first-round exit in the team's last six playoff runs, and the division is as deep as ever heading into the 2021-22 campaign, but Head Coach Jeff Crouse is looking forward to the challenge.
"Once again it looks like the West division is going to be solid top to bottom. Every game is a battle and every point counts in our division," he said.
The Blizzard perennially boast plenty of high-caliber talent — three from Alexandria earned NCAA commitments last season — and have their eyes locked on the Fraser Cup. But a successful playoff run is built on consistency in the regular season.
"The big thing is to make sure you are consistently improving as a team all year and you are at the top of your game going into the West Division playoffs," said Crouse.
Watch: Alexandria Blizzard season preview
Personnel-wise, the Blizzard will have a new look when the puck drops in just a few short weeks. With advancement to the NAHL, NCAA and beyond, Crouse has been hard at work this summer bolstering his lineup.
"We needed to add everything to our team this year as we've had a lot of turnover. We moved multiple kids to College and have multiple players on NAHL rosters right now," he said.
"We've added some good young talent up front and on the blue line, and I am looking forward to working with them and getting them on the same page with the veterans."
Those veterans that Crouse mentions will be key to Alexandria's mission to take down the top dogs in the West. Players like Kaden Peterson, Ben Tschida and Alex Heidenreich and netminders Joey Greilich and Bailey Roach will carry the flag and look to guide a young Blizzard roster to season-long success.
"At the Junior level you need to make sure you have good leadership and that starts with your veterans. I'll be looking to (those players) to be leaders of this team and show the way for the young guys," said Crouse.
Alexandria has established itself as a breeding ground for not only good Junior hockey players, but collegiate athletes as well. Besides the aforementioned three NCAA commitments last season, the Blizzard also saw two players earn NAHL tenders, building on a run of several seasons with notable player advancement.
"Player development and advancement is our number one goal. We had another very good year this year, both in moving players to college and getting tendered or drafted in the NAHL.
Crouse credits his team's strong advancement statistics to a dedicated staff from top to bottom.
"Our ownership and our staff have been together for over 14 years, so experience and stability in the organization definitely helps out with moving our players on," he said.
Though the playoff success has eluded the team in recent years, with an infusion of young talent and a dedicated off-ice staff, the Blizzard are as poised as ever to make noise in the West going into 2021-22.
Next up: Atlanta Capitals