August 21, 2021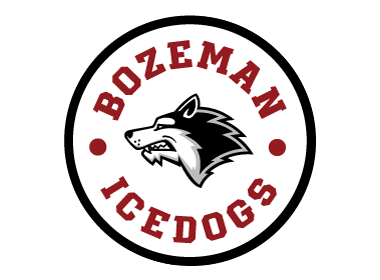 The 3View series will feature an in-depth look into all NA3HL teams in preparation for the 2021-22 season, with two teams being highlighted daily, leading all the way up until the start of the regular season. 3View goes in-depth into each NA3HL team and will include interviews with all the head coaches in the NA3HL, as they provide fans with their expectations and outlook for the 2021-22 season, including taking a look at their potential roster and their strengths as a team for the upcoming season. It will also take a look back on the 2020-21 season and how each team fared and what they accomplished. Best of all, 3View will provide the fans of the NA3HL with an inside look at their favorite team and what to expect.
Bozeman Icedogs
2020-21 Record: 13-22-5, 31pts (6th in Frontier Division)
2021 Playoffs: Did not qualify
Head Coach: Mike Perkins
2021-22 Division: Frontier
After topping the Frontier Division during the regular season in 2019-20, the Bozeman Icedogs took a step back in 2020-21, missing out on a Fraser Cup playoff bid for the first time since the 2017-18 season.
Heading into the new campaign, the team has been refreshed with a new coaching staff, new roster and plenty of reason for excitement as Head Coach Mike Perkins looks to establish a winning environment.
"Our main priority is to create a culture where players want to advance in the game. Once we instill that into our program, players will come to the rink everyday ready to compete for spots in our line-up," he said.
Perkins knows that winning won't always come easy in this division, but insists his team is up for the task.
"We have teams and coaching staffs in the Frontier Division that put a great product on the ice. We are going to focus on ourselves and work to create a work-based environment where every player succeeds if the team succeeds.
The Icedogs have posted at least 25 wins in four of the last six seasons, but have not advanced past the first round of the playoffs in the club's NA3HL history.
Perkins' goals to create a team-first environment will look to ensure more positive results in the standings, but the key this year will be developing that mentality in a locker room full of new faces.
"We have turned over our whole roster from last season. (Director of Hockey Operations) Doug Sheridan has done a fantastic job recruiting players for the 2021-2022 season," said Perkins.
Three of those new faces — Liam Massie up front, Luke Busher on the blue line and Collin Soderholm between the pipes — will need to be at their best early, as Perkins expects them to pace the Icedogs' efforts this season.
Watch: Bozeman Icedogs season preview
"(These players) will be the backbone of our team. All three have extensive Junior experience and bring high-level leadership qualities. Massie is a 6'4" power forward who skates well and knows how to get to the net. Busher is a 6'3" defenseman that can score and make plays from the backend. Soderholm is a 6'2" goaltender who has the ability to make 2nd, 3rd, and 4th attempt saves because of his athleticism," he said.
Another key to Bozeman's recruitment strategy is that incoming players can expect to finish the year as better hockey players than they were when they arrived. Perkins again credits his staff for helping create these growth opportunities.
"We are pretty excited about bringing Jeff Burton, our new assistant coach, aboard. Jeff's expertise in off ice training and on ice skill development aside from his knowledge of the game of hockey, will allow our players to grow throughout the season," he said, "Players are choosing to come to us for that development."
Many coaches will tout their team's focus on player development, but Perkins wants to ensure Icedogs players develop autonomously — that it's a process driven by the individual in order to ensure lasting success.
"Every Junior team's job is to continue the development of each and every player. There are so many college opportunities in the game of hockey now that if a player truly wants to continue his hockey career, there is a spot for everyone," said Perkins.
"I believe that a Junior hockey program's success is measured by the amount of players the team has moved on. But it's not just the ability of teams to move players on, it's the player's ability to assimilate into whatever program they choose."
Next up: Butte Cobras