3View: Danbury Jr. Hat Tricks
August 22, 2021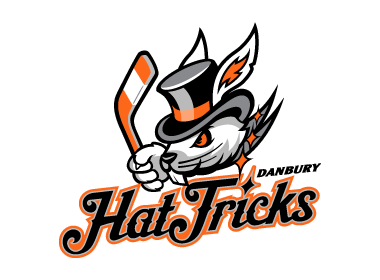 The 3View series will feature an in-depth look into all NA3HL teams in preparation for the 2021-22 season, with two teams being highlighted daily, leading all the way up until the start of the regular season. 3View goes in-depth into each NA3HL team and will include interviews with all the head coaches in the NA3HL, as they provide fans with their expectations and outlook for the 2021-22 season, including taking a look at their potential roster and their strengths as a team for the upcoming season. It will also take a look back on the 2020-21 season and how each team fared and what they accomplished. Best of all, 3View will provide the fans of the NA3HL with an inside look at their favorite team and what to expect.
Danbury Jr. Hat Tricks
2020-21 Record: 23-13-0, 46pts (2nd in East Division)
2021 Playoffs: Lost in Division Semi-Finals
Head Coach: Tyler Noseworthy
2021-22 Division: East
Coming off of an impressive, playoff-caliber debut season, the Danbury Jr. Hat Tricks took another step with 23 wins out of 36 games in 2020-21.
Fueled by top scorers Nick Cullinan, Connor Lefkof and Nikita Kovalev, the Jr. Hat Tricks finished comfortably in second place in the East Division before bowing out to the New Jersey Titans in the division semi-finals.
Coming into 2021-22, Danbury will feature a new bench boss in Tyler Noseworthy, who looks to help the Tricks achieve their championship aspirations while fostering off-ice growth as well.
"Winning a championship is always the end goal as per any hockey team," he said, "Development, however, is at the forefront for me as a coach. I want to do my best to mold well rounded hockey players as well as exceptional young men off the ice."
But while the on-ice goals will remain the same, Noseworthy looks forward to putting his own stamp on the roster and the team's style of play.
Watch: Danbury Jr. Hat Tricks season preview
"Last year is in the past. We are going to be a slightly younger team this coming season. Our focus will be on a complete 200 foot game. With sound play in all three zones, goals will come.
Danbury's veterans will need to carry the load for the young team, though they can expect a clean slate with their new coach.
"I always expect a lot out of veteran players, that will again be the case this coming season. Whatever roles my returning guys played last year will be irrelevant this year. Everyone will have ample opportunity to show me what type of player they are and want to be moving forward. I expect veterans to lead by example and help the rookies coming in adapt to the pace of the game at this level," said Noseworthy.
One area in which the Jr. Hat Tricks truly thrived last season was player development and advancement. Five players earned NCAA commitments while wearing the orange and black, with four more committing to ACHA clubs.
That's something Noseworthy very much looks forward to continuing during his tenure.
"For me as a coach this is the top priority, and I can speak for the organization on this topic as well. It is my job to do whatever I can do in my power to make sure these players fulfill their aspirations as hockey players. I will pick up the phone, I will knock on doors, I will push for every single one of my guys. I will do that at 100% capacity, as long as that effort is reciprocated from my players day in and day out," he said.
Through just two years in the NA3HL, the Danbury Jr. Hat Tricks have established themselves as contenders in the East. With a new coach and an influx of young talent, this season should see a Danbury team pushing towards the top of the division.
Next up: El Paso Rhinos