August 23, 2021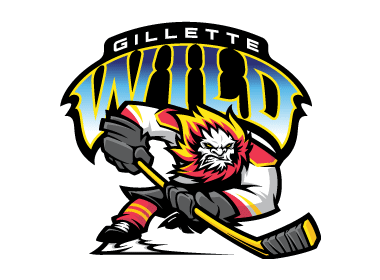 The 3View series will feature an in-depth look into all NA3HL teams in preparation for the 2021-22 season, with two teams being highlighted daily, leading all the way up until the start of the regular season. 3View goes in-depth into each NA3HL team and will include interviews with all the head coaches in the NA3HL, as they provide fans with their expectations and outlook for the 2021-22 season, including taking a look at their potential roster and their strengths as a team for the upcoming season. It will also take a look back on the 2020-21 season and how each team fared and what they accomplished. Best of all, 3View will provide the fans of the NA3HL with an inside look at their favorite team and what to expect.
Gillette Wild
2020-21 Record: 23-15-2, 48pts (3rd in Frontier Division)
2021 Playoffs: Lost in Division Semi-Finals
Head Coach: Ethan Hayes
2021-22 Division: Frontier
Since joining the NA3HL ahead of the 2014-15 season, the Gillette Wild have been a steady presence in the playoffs, having missed the postseason cut just once in seven years.
Last season saw the Wild finish third in the Frontier Division before falling to the Great Falls Americans in a three-game division semi-final series.
The first round of the playoffs has not been kind to the Wild in their NA3HL history — each of the team's five playoff runs has ended in that portion of the bracket — but Head Coach Ethan Hayes is not panicking. With the right personnel and a steady work ethic, Gillette can find its way through the crowd in the Frontier.
"To contend for the cup we'll just need to keep working in every aspect of our game," he said, "We should be pretty deep and very skilled up front, (but) our defensive core will have to step up and help out our goalies a lot more this year."
The 2021-22 Gillette squad will look pretty similar to the team that took the ice last season — with the majority of the team returning, a veteran-led Wild team will be as dangerous as ever in the new year.
"We expect to see a very fast and very physical blue collar style game this year. Returning 16 players from last year, we expect to pick up directly where we left off," said Hayes.
About half of those returners were already key contributors to last year's team, so Hayes is expecting big things from his team's leadership, especially 2020-21 leading scorer Declan Young.
Watch: Gillette Wild season preview
"(Young) should continue to lead the way offensively, with Tristan Baker, Will Blake, Tucker Lien, Caleb Sanborn, and Carson Kuche all taking on key roles for our top lines. In adding Declan's younger brother Isaac and top talent from Minnesota in Saizha Norwegian and Sky Solig, we should be incredibly deep and talented up front. Defensively, Brock Trboyevich and Mason Hoffman, also in the top ten in points last year (on our team), will lead the defense core again this season.
Those returning from last year's squad will not only have their eye on the Fraser Cup, but also on their next opportunity — be it in the NAHL, NCAA or ACHA.
"Advancement is our biggest goal here. With Connor Sullivan just accepting an offer to Bethel University in Minnesota, and every other player that aged out having opportunities to play college hockey, we felt (last season) was a success," said Hayes, "Being able to help kids get to school and continue to pursue their passion for hockey is extremely rewarding and what this is all about."
Make no mistake, though — the Wild have high aspirations on the ice this season and will be more than a handful in the Frontier Division.
"It's pretty early to define a season success goal, but we're on the path to really compete for the division this season," said Hayes.
"I think all of the kids share a common goal of doing that and making it to the Fraser Cup tournament."
Next up: Granite City Lumberjacks